Return to Headlines
Board Meeting Preview: September 21, 2021
Board of Education Meeting
Tuesday, September 21, 2021, at 5:30 pm
The Columbus Board of Education will meet in person at 5:30 p.m. on Tuesday, September 21, 2021, at the south administrative building located at 3700 S. High Street, Room 825. Masks are required inside all District buildings.
Any public participant wishing to make comments have the option of addressing the Board in person or by telephone. To sign up, public participants must call to leave a voicemail with Customer Relations at 614-365-8888 or email customerelations@columbus.k12.oh.us by 5:00 p.m. on Tuesday September 21. Speakers will need to provide their name, topic, and phone number. Click here to view the meeting agenda.
Meeting attendees will need to enter the north-facing door toward the west end of the building. All attendees/participants will be required to wear face masks during the meeting regardless of vaccination status (unless medical or developmental conditions prohibit use).
The meeting will be streamed via Facebook Live and on the Columbus City Schools' YouTube Channel, which allows the public to attend virtually.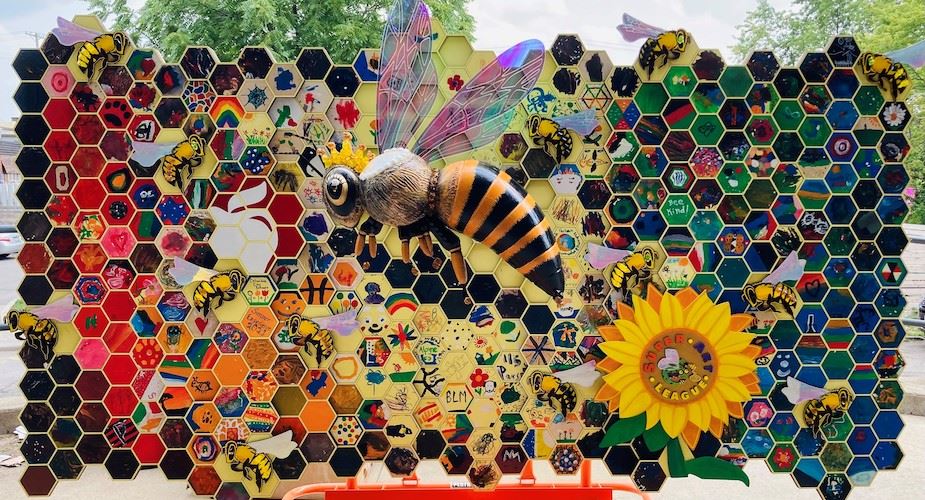 Before the start of the Board of Education meeting at 5:15 p.m, the Super Art League, a community non-profit group, will make a special presentation to Board Members showcasing an art sculpture created with Special Education students and the Super Art League as part of the 2021 CCS Summer Experience.
The sculpture, known as the BeeHive, is four and a half feet wide and eight and a half feet tall. It includes 400 hexagon-shaped wooden pieces painted this summer by special education students and their teachers and staff. The sculpture consists of a Queen Bee, which represents the District, and 13 worker bees, all with translucent wings that symbolize the teachers and staff that take learning to the next level across all grades, K through 12.
Specialized Masks for Unified Arts
The office of Accelerated and Extended Learning, Department of Unified Arts, requests authorization from Board Members to enter into an agreement with Guitar Center to purchase specialized masks for music students in grades K – 12. Using Elementary and Secondary School Emergency Relief Funds (ESSER), the masks are valued at $701,000. Specialized masks for student musicians will allow the District to engage students in face-to-face learning in the arts while following recommended health and safety guidelines. Unified Arts will assess and address student learning gaps resulting from the disruption in educational services in arts education that occurred as a result of COVID-19.
Athletic Videos to Help Coach and Video Development
It is recommended that the Board of Education authorize a service agreement with Agile Sports Technologies, Inc., better known as "HUDL." This agreement will provide all Columbus City Schools high school athletic programs with the HUDL product, which provides a video platform to include live streaming for gymnasium and stadium contests, video breakdown of stats, video sharing, film exchange, team messaging, video highlights, and online support. The agreement will be effective from August 19, 2021, through August 31, 2022. The agreement includes two one-year extensions valued at $128,000.00 per year for the second and third years of the contract. Additional years are conditional on fund appropriation by the Board of Education.
Athletic departments throughout the country utilize HUDL as the premier product in athletic video offerings. HUDL is currently used within the majority of CCS high school athletic departments on a smaller scale. This agreement allows CCS to expand the HUDL product to allow additional sports at each high school access to the HUDL product beyond basketball and football. CCS athletic departments will gain the support of the industry leader in athletic videos, which will play an essential role in coach and player development.
Water Bottles
Using Coronavirus Aid, Relief and Economic Security (CARES) Act Funding and ESSER Funds, it is recommended that the Board of Education authorize the administration to purchase bottled water from Friends Service Company Inc. not to exceed $2.2 Million. To comply with health and safety protocols, water fountains in school buildings have been turned off. The water bottles are needed for the health and safety of students and staff.
Important Dates
September 23: Neighborhood School Development Partnership (8:00 a.m.); Audit and Accountability (3:30 p.m.)