Return to Headlines
Shot Tower Gallery at Fort Hayes Features Work by Larry Winston Collins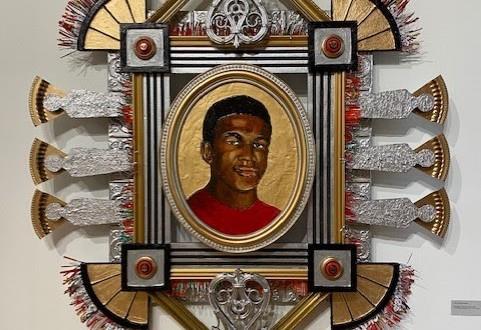 September 27, 2021 -- The Fall opening show at the Shot Tower Gallery at the Fort Hayes Metropolitan Education Center features three series created by Fort Hayes' alumni parent and artist Larry Winston Collins, Miami University Associate Professor Emeritus and former CCAD faculty member.
From August 30 - November 5, the gallery presents "They That Matter," "Captured Moments," and "All For the Cause," a selection of Collins' Civil Rights works from the Frank Hale Black Cultural Center Collection.
In addition, murals from the Greater Columbus Art Council's "Art Unites Cbus," selected by faculty and gallery interns, are on display in the Tower and on the grounds of Fort Hayes.
The gallery interns are currently training for class tours that are now available for the first time in over a year due to the pandemic. The gallery will have two "maker spaces" for students to be able to reflect and respond with writing and art and the student gallery will display work from these responses and the related artwork that art students created last year and this year.
Collins exhibits widely nationally and internationally. His artworks range from drawings, printmaking, mixed media paintings, and photography. Larry is one of the original members of Art For Community Expression which was founded in 1979 by Kojo Kamau to assist African American artists develop and show their work in (one of the first galleries in the Short North) and to raise funds for artists trips to Africa.
The Shot Tower Gallery was founded in 1982 as part of the Ft. Hayes Visual Arts Building at the Ft. Hayes Metropolitan Education Campus. It is one of the longest-running galleries in Central Ohio with a large and beautiful space that is a venue for large exhibitions that feature local and nationally significant artists. We proudly have designed exhibitions that celebrate cultural diversity, promote community connections and provide interdisciplinary connections and educational resources in the visual arts. If you would like to have a tour or have your or your student's related work that you would like to display, please contact tweidenbusch6679@columbus.k12.oh.us.
About Larry Winston Collins' exhibit:
"They That Matter" is a series of 33 mixed media portraits that Collins created over a seven-year period as he experienced the events in the United States concerning the shooting of black men and women by police. Moved by a TIME magazine cover from April 20, 2015, he felt that these stories of these African American men and women needed to be told and that people should honestly take notice of these victims and what these events have to say about our society. Collins reflected back to an exhibition of his work that he created in the mid-1990s, "All For The Cause" (now in the Frank Hale Center Collection at the Ohio State University) where he created 33 portraits of individuals who died during the civil rights movement. Many of those killed were never vindicated, and Collins realized that "the stories of the slain civil rights workers had many characteristics similar to the stories of victims who have experienced police violence." In They That Matter, Collins re-creates individual shrines, just as he did in All For The Cause, illuminating each person who has lost their life; to show the humanity of the victims and that their lives mattered.