Return to Headlines
Southwood Builds Confident 'Eagles' Through "Writer's Nest"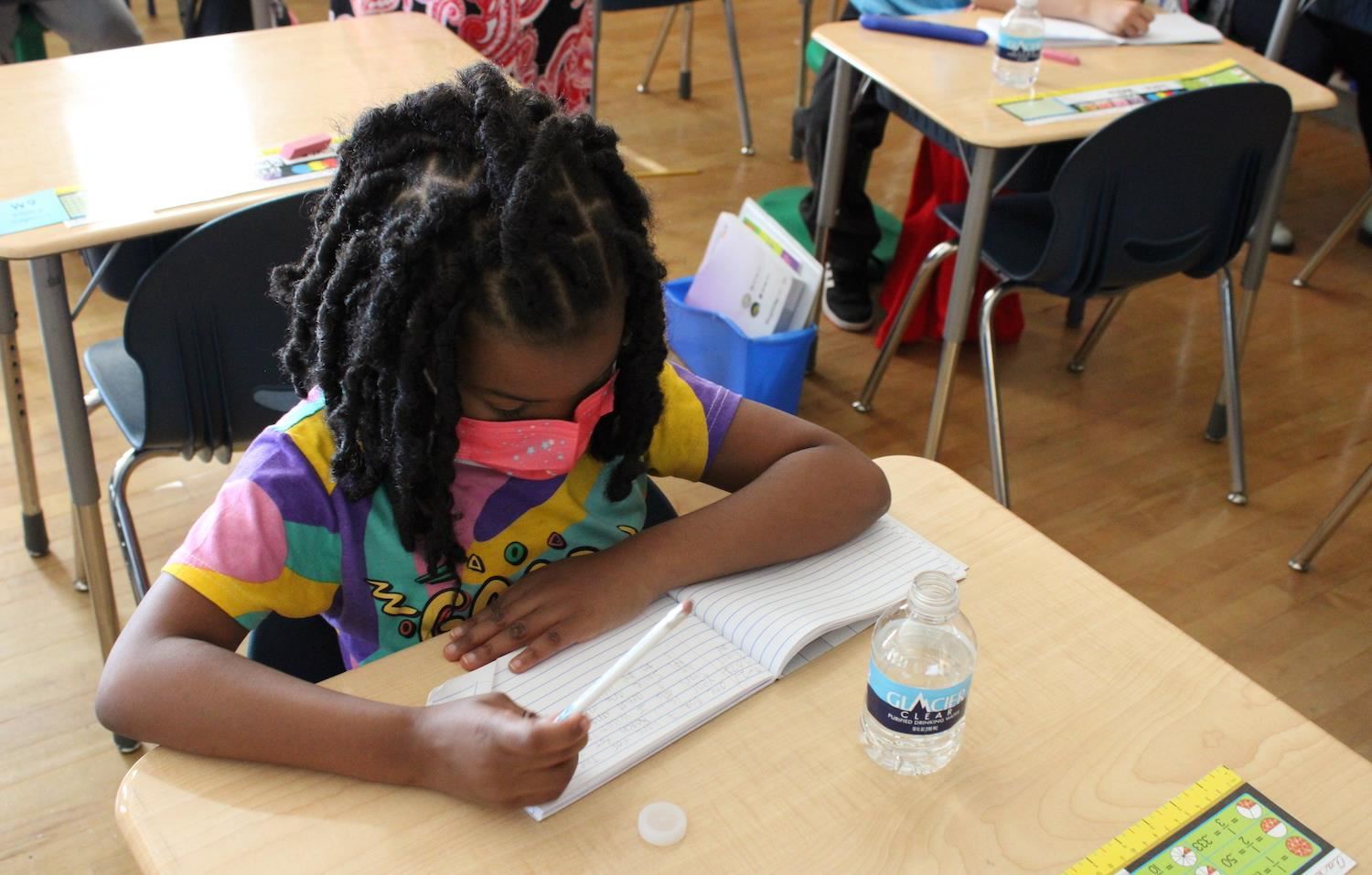 September 29, 2021 -- Writing confidence is gained through daily practice with relatable topics. That's what Southwood ES scholars are discovering as they explore their thoughts and put them on paper with the school's newly implemented "Writer's Nest."
Students spend 15 minutes after recess each day nestled in their cozy classrooms, writing on various topics of interest. Most days are focused on Social Emotional ideas such as: How do you handle a challenging situation? Why is it important not to give up? Tell about a time you were a good friend to others. And on Fridays, they celebrate with "Free Write Friday," which is a student favorite.
Some days they listen to music and other days they write in silence. The lights are off or turned down low, as students have commented they feel calmness take over as they settle into "Writer's Nest" after an energetic recess. This time allows students to get recentered for an afternoon of learning.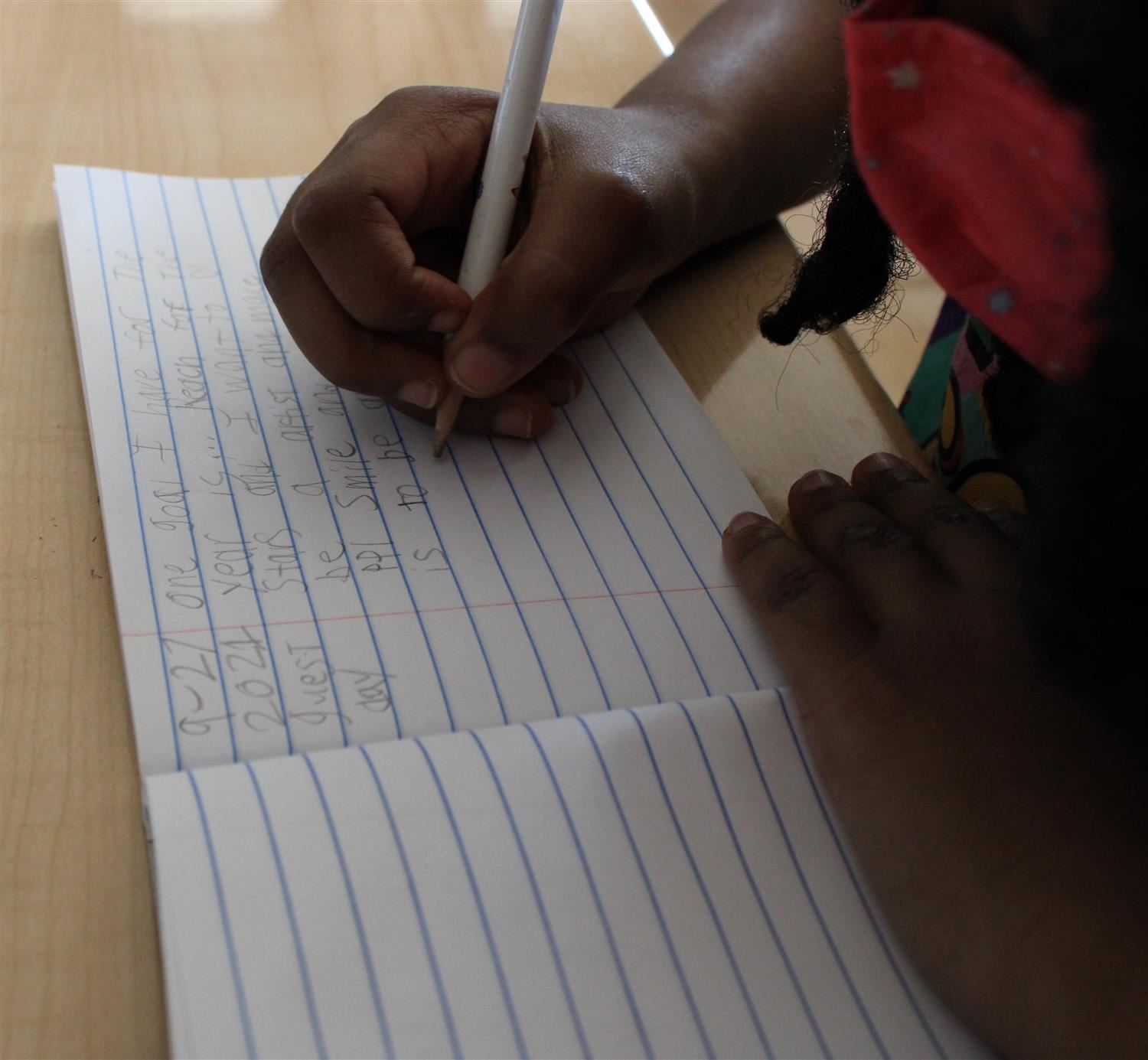 According to Robin Thalgott, 3rd grade teacher, the goal is for students to get their ideas on paper, use the sounds they hear to spell, and take risks in sharing their thoughts and feelings to build relationships within their classroom family.
"All students participate in the 'Writer's Nest' at their grade level. Those who aren't writing yet, draw pictures," Thalgott explained. "For my 3rd graders, it is really helping them prepare for their first year of state testing."
Ohio state law mandates 3rd grade students attain specific cut scores on state testing to continue to 4th grade. Students are expected to write a multi-paragraph response on a given topic. The law was reinstated this year after a two-year waiver due to COVID. Thalgott says Southwood has seen a large percentage of students scoring zero out of 10 on the writing portion the past couple of years because many are only writing two to three sentences. The "Writer's Nest" is helping to overcome this by building writing stamina.
"I have already seen a huge improvement in students' writing. Instead of saying 'I'm done' after one sentence, they are rereading their work and realizing that additional thoughts and ideas often pop in our heads when we read what we have already written," Thalgott said. "Very rarely are students asking me how to spell words at this point because my answer is consistent, 'You sound it out!'"
Teachers aren't the only ones excited about the program. Students are also excited and eager to share their writing with their classmates. Today, eight-year-old Kimora Butts wrote about her love of art and her goal to become an artist.
"I really like the 'Writer's Nest' because I can write about things I like, and I have my own personal writing book," Butts said. "Right now, I'm working on my cursive and adding more details to my sentences."
Butts says she loves to write about nature, flowers, and rainbows because she wants to draw them when she becomes an artist. For now, she is happy to write about her favorite topics and share her thoughts with her classmates.