Return to Headlines
Highland School Psychologist Making a Difference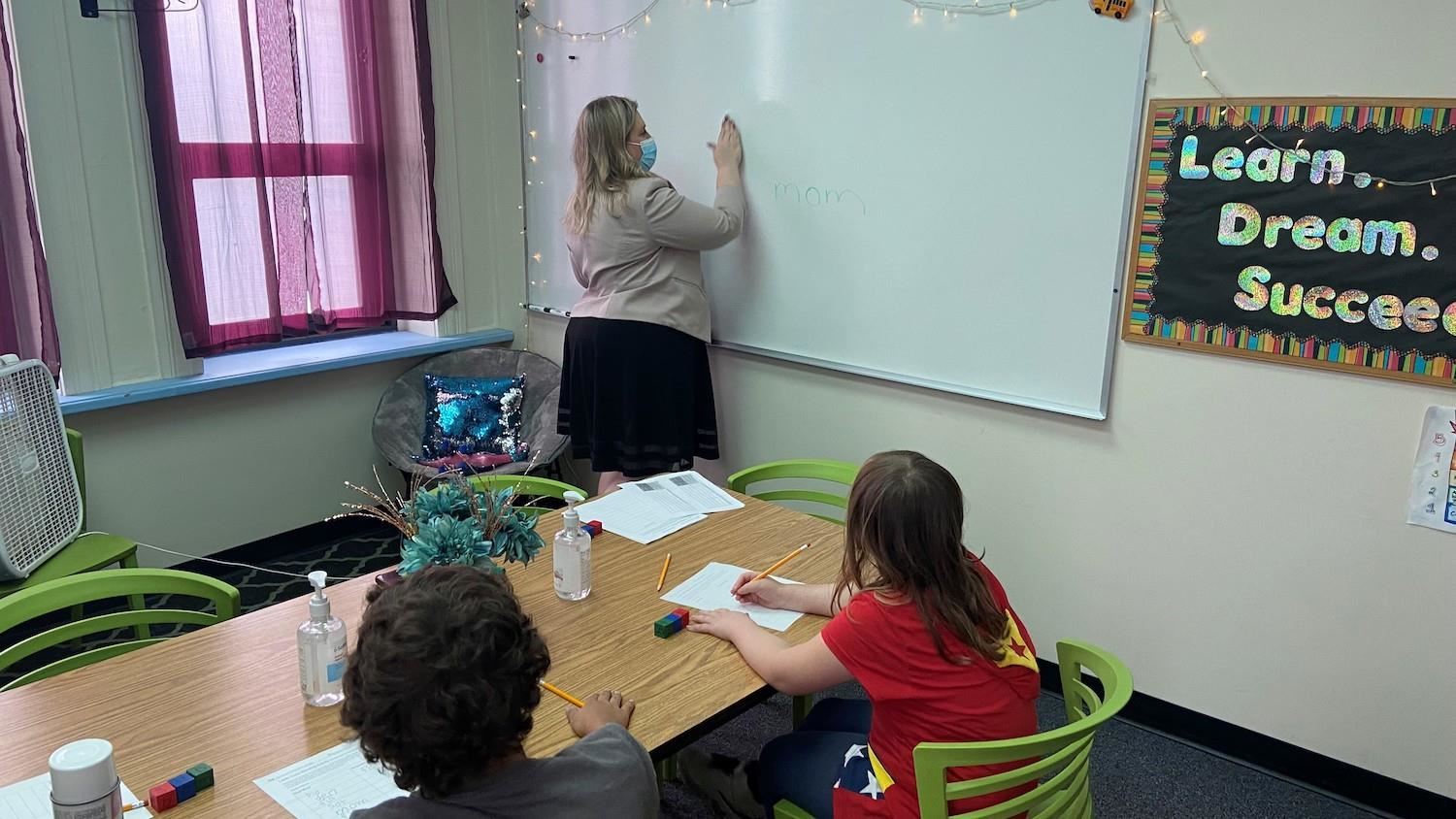 September 30, 2021 -- The psychologist at Highland Elementary School is part of a pilot project this school year where she works full-time with students, staff, and families instead of splitting her responsibilities between several schools in the District.
"There was a need here at Highland," said John Cook, a District School Psychologist Supervisor. "Traditionally, school psychologists are seen as people who do a lot of paperwork and conduct assessments, but they have a lot more strengths and talents."
Just ask Desiree Nutt, who begins each day not hunkered down in a closed office in front of a computer screen.
"I'm out there each morning, rain or shine, greeting students along with the principal, teachers, and staff," said the Highland School Psychologist. "There is nothing more discouraging for a student to walk by an adult and not be recognized. We want all students at Highland to know they are safe here, and they matter."
That's why Desiree Nutt is also out on the playground during recess time too. The game plan changes daily for this Highland Elementary School psychologist. The one constant is the hours she spends each school day on academic supports. On the day we caught up with Nutt, she worked with two students on phonetics and word sounds to successfully complete grade-level work.
"Our general education teachers can't do it all," said Nutt. "I have academic training to help students improve so they can not only perform academically but excel," said Nutt. "So much was lost due to the pandemic. I can look at the data and test scores and figure out the student's percentile pre-COVID. From there, we can better determine if the learning issue is pandemic related or something else."
At Highland, the goal is to keep students in the classroom. Desiree Nutt plays a significant role in that mission.
"She is another layer of support for our students, families, teachers, and staff," said Highland Principal Michelle Deime. "That full-time support is so important given the last three years with the virus and now that we are back to in-person learning five days a week."
For the last seven years, Desiree Nutt has been assigned to Highland and another school in the District. This school year is the first time where Highland Elementary is her full-time focus.
"I love being more involved and participating in grade-level team meetings," said Nutt.
"School psychologists can be much more of an asset if they are in the building five days a week implementing social-emotional programs and academic interventions," said Cook. "My goal is to show through data, and anecdotally, school psychologists do so much more than testing and writing reports."