Return to Headlines
Veterans Day Message from the Superintendent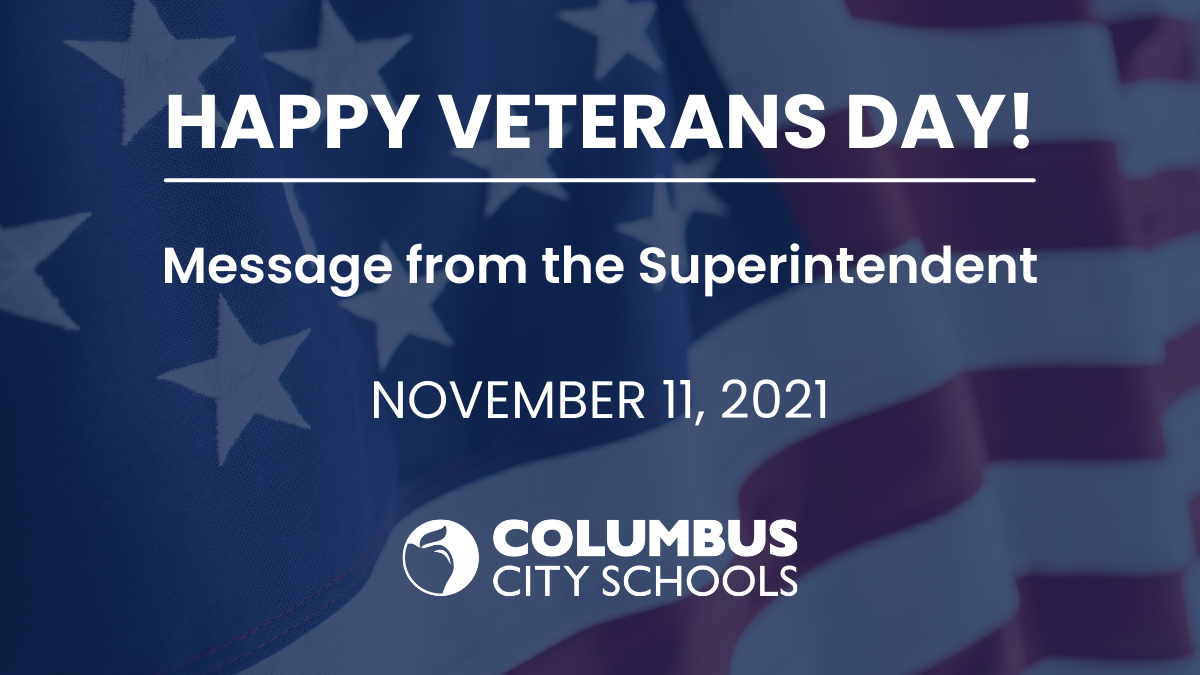 November 11, 2021 -- On behalf of Columbus City Schools, I would like to take this opportunity to thank our great country's military veterans. With so much attention focused on the things that divide us as a nation, we must remember, honor, and celebrate those which unite us—one being our gratitude for our veterans.
Our students today have no recollection of America at peace. The United States has been at war in Afghanistan for their entire lifetime. On August 30, 2021, we ended 20 years of war - the longest war in American history. As we welcome our troops home, it is vital that we teach our students - our future leaders - the significance of Veterans Day and the sacrifices made by our servicemembers. Today, we thank our veterans - past, present, and future - for bravely answering the noble call to serve, so that we may continue to embrace the freedoms we so gratefully enjoy.
CCS is fortunate to have 155 U.S. military veterans within our own ranks of teachers and staff. Their leadership and life experiences bring much value to our district community.
We also have significant military appreciation within our student body through our Junior ROTC programs:
Fort Hayes Arts and Academic High School Air Force Junior ROTC
South High School Army Junior ROTC
West High School Army Junior ROTC
Our CCS students had a large presence in the Columbus Veterans Day parade last week with:
Ten CCS high school marching bands provided outstanding performances;
All three of our JROTC programs marched in the parade;
Several CCS Air Force Junior ROTC cadets proudly carried the Columbus Veterans Day Lead Banner and led the Pledge of Allegiance;
A Fort Hayes Arts and Academic High School student beautifully sang the National Anthem to start the festivities.
I am beyond proud of our students and our district!
On behalf of the entire CCS community, we thank you, veterans.
Respectfully,
Talisa Dixon Superintendent/CEO
Columbus City Schools