Return to Headlines
CCS Teacher Provides Violins to Entire Class
November 12, 2021 -- Fourth grade teacher Jenifer Lourens wants her students at Scottwood Elementary School to learn how to play the violin so badly, she has provided every student in her class with a violin along with herself so they can learn how to play together.
"I think it's important for my students to learn how to play an instrument and have that experience," said Lourens. "The fact that I am learning how to play along with my students is even better."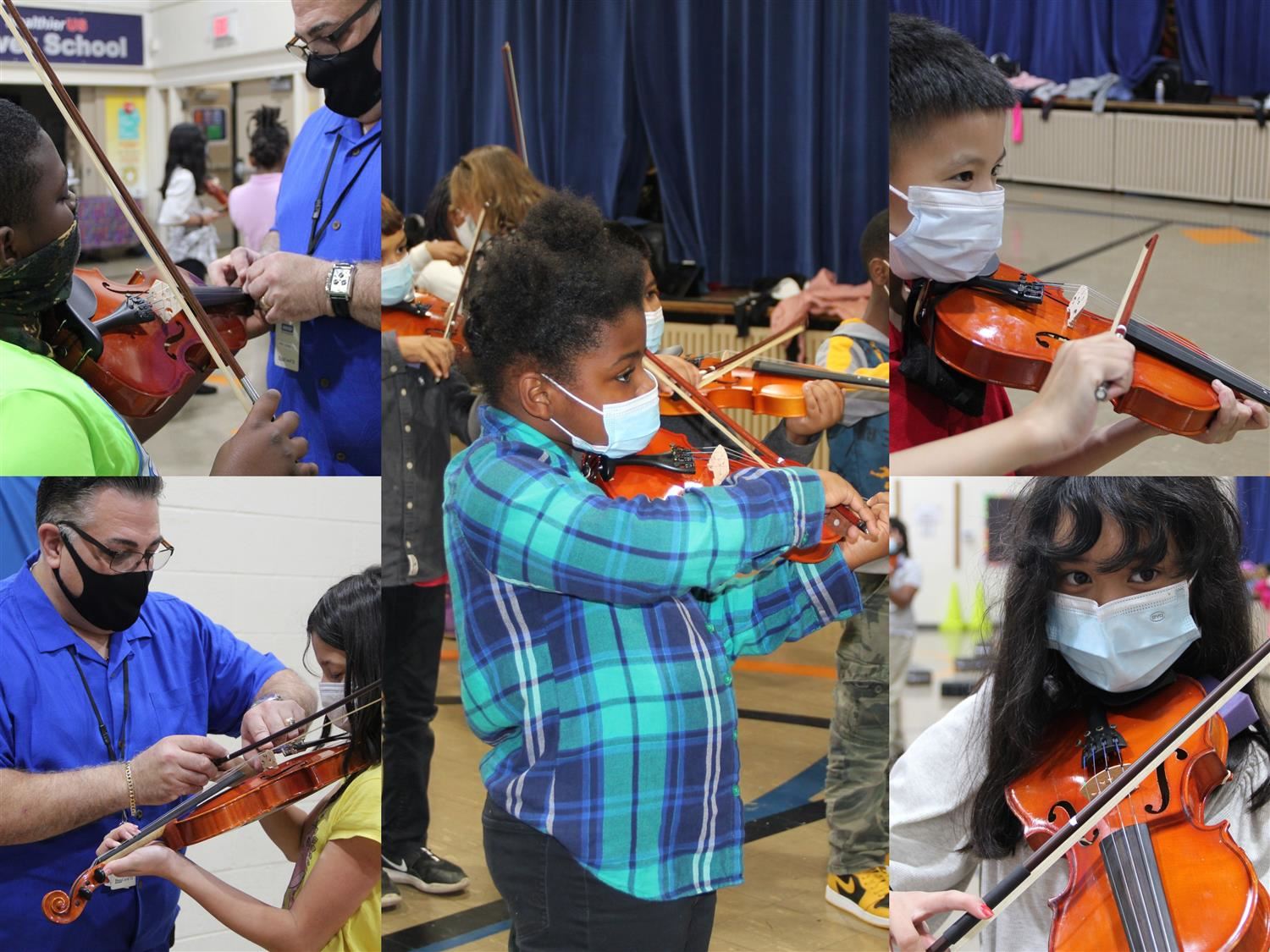 At Columbus City Schools (CCS), students can begin playing an instrument, something in the strings family, by the time they enter the fourth grade. Lourens decided to reach out to family and friends to ask if they would help her buy a violin for all 20 of her fourth graders.
"My family and friends stepped up big," said Lourens. "They spent between fifty and sixty dollars to make sure every student had a violin. It was amazing."
There was a "big reveal" planned in the library when the violins arrived at Scottwood. Each instrument was in a case with a bow on it. After students were escorted in and their blindfolds removed, they screamed with delight when they learned each one of them was getting a violin. Scottwood Principal Kerri Myers remembers the day vividly.
"It is thrilling to see our fourth graders so enthusiastic about learning how to play the violin and Ms. Lourens has made that possible for them," said Principal Kerri Myers. "Studies show that children who play instruments can complete complex mathematical problems better than peers who do not play instruments. Our goal is to have all fourth and fifth graders at Scottwood play an instrument so they are better equipped for the secondary level and college."
Brian Matticola is an elementary school instrumental music teacher at CCS. He is teaching Lourens and her fourth graders how to play.
"I teach the violin the same way whether it's children or adults," said Matticola. "This experience does give me respect for the teacher. When she messes up, the students are reassured it's okay for them to mess up too."
During the 40-minute music lesson, Marricolo walks around the gym, readjusting little fingers on the strings and reminding students how to hold the bow. During this lesson, student Temprance Perdue soon discovered she needed rosin, a sticky material that would help her bow make a better sound as it slides across the strings.
"The hardest part about playing the violin is holding it," said Perdue. "When you have to start playing, sometimes you use three fingers, and other times it's just two."
Classmate Eriss Turner enjoys learning how to play the violin but admits it is challenging.
"You have to press hard on the bow with your fingers, and that's hard for me," said Eriss Turner. "That's why I am practicing at home so I can get better."
"I think it is very cool learning how to play the violin because it's fancy," said Benji Vasquez. "For me figuring out the different notes is the hardest part."
When it comes to learning to play the violin, the only thing that separates Lourens from her students is her instrument is green while the students' violins are the traditional color. Every week, the teacher and students practice perfecting their notes. One thing this fourth grade class has already created thanks to these violins: a stronger bond that really is music to their ears.
"When you experience something together it creates a special connection," said Lourens. "Even if it is a struggle, we feel better and usually accomplish more when we work together."