Return to Headlines
Sherwood Middle School Students Get Up Close and Personal with Veterans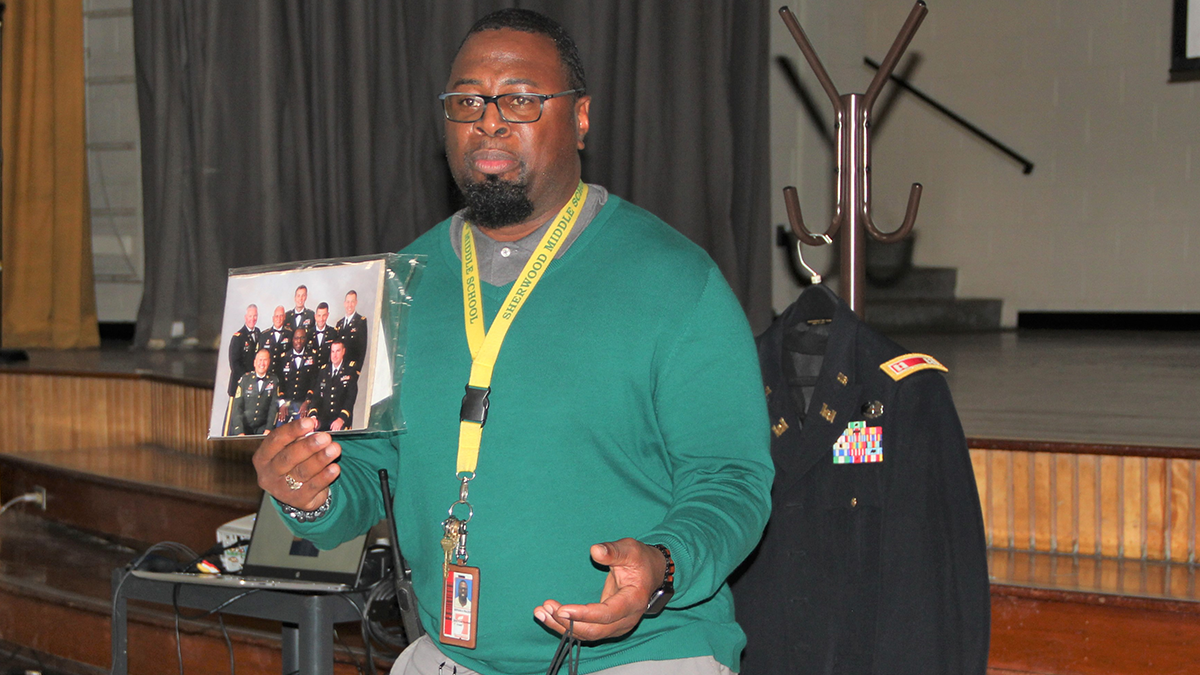 November 12, 2021 -- Students at Sherwood Middle School had to go no further than the front office and a seventh grade classroom to learn about Veterans Day and why we have a special day of appreciation dedicated to our country's servicemen and women. Assistant Principal Sephan Frazier retired from the Army as a captain after 21 years of service. Seventh grade student Khi Burrell suggested to a teacher that his mom come and speak at the Veteran's Day Assembly at Sherwood because she could provide a different perspective as a female veteran and a mom.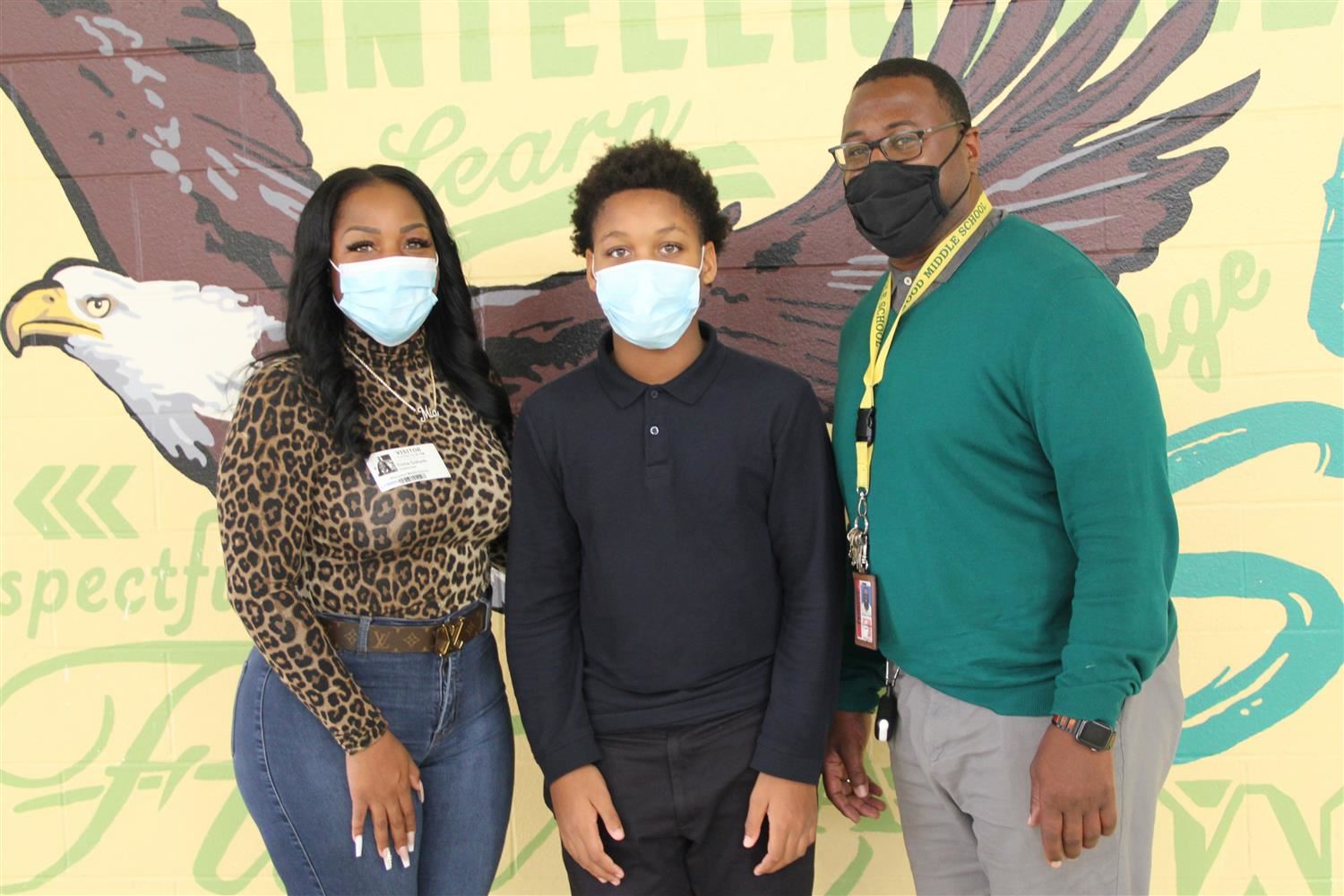 "I first joined the army when I was 17 years old," Sephan Frazier told the students in the auditorium. "My first job was as a combat engineer because I loved to blow things up."
Frazier shared that he was raised by a single mom who passed away his senior year of high school. Frazier said, "Since I didn't know how I was going to pay for college, I joined the Army."
Khi's mom, Timia Goforth told students, "While the Army isn't for everyone, it helped me grow up after high school and learn how to consistently provide for my family. I'm not going to lie, the hardest part was being away from Khi and his older brother," Goforth said.
Frazier talked to the students about fighting for the freedoms we have today. His presentation also included a show-and-tell.The assistant principal had the jacket of his dress blue uniform hanging in the front of the auditorium. He told students that every uniform tells that soldier's story including the branch of service, awards, and tours of duty based on colors on the uniform and location of patches and insignia.
The assistant principal also shared videos he captured from actual patrols when he was in Afghanistan a few years ago. "My unit was there to train the Afghan army and hunt down drug lords," said Frazier." The students applauded Sephan Frazier when he told them "no one died on my watch, but a soldier was stung by a scorpion. That's the worst thing that happened."
Goforth told students she never saw combat but was in Kuwait and Afghanistan to "support the men and women who were on the front lines." As an administrative assistant, Goforth worked for high-ranking military personnel sometimes in top-secret locations.
While the students had lots of questions for both Frazier and Goforth, the part of the presentation the students seemed to enjoy the most was when Frazier opened up an MRE.
"What does MRE stand for," Frazier asked. "Meal, Ready to Eat," the students shouted back. "Here is spaghetti in this green plastic package, and in these small packets you will find powdered peanut butter and jelly," Frazier said. As the MRE was passed around the auditorium, the students' faces displayed shock and awe that their assistant principal ate that stuff. One student asked, "Where's the water for the spaghetti?" Frazier responded, "No water, we were in the desert. This spaghetti with meat sauce is dry."
The time spent with these two veterans was impressive for sure for the Sherwood Middle School students because when the bell rang indicating it was time to leave the auditorium, the students didn't move. Instead, several hands went up with more questions for these veterans.
Thank you, Sephan Frazier and Timia Goforth for your service!