Return to Headlines
Board Meeting Preview: November 16, 2021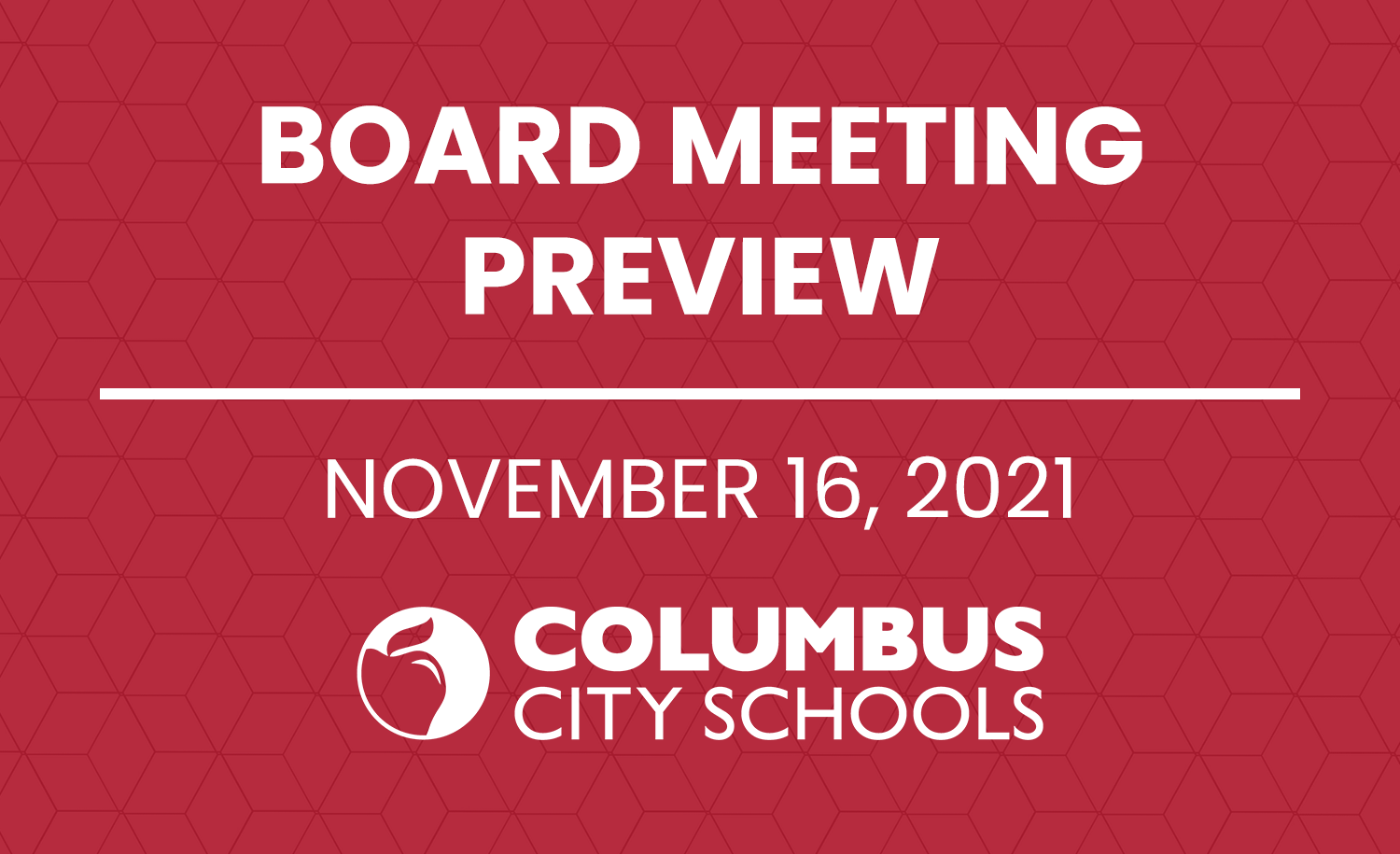 Columbus City Schools
Board of Education Meeting
Tuesday, November 16, 2021, at 5:30 pm
The Columbus Board of Education will meet in person at 5:30 p.m. on Tuesday, November 16, 2021, at the south administrative building located at 3700 S. High Street, Room 825. Masks are required inside all District buildings.
Individuals who wish to provide public comment during the meeting will have the option of addressing the Board in person or by telephone. To sign up, public participants must call to leave a voicemail with Customer Relations at 614-365-8888 or email customerelations@columbus.k12.oh.us by 3:30 p.m. on the day of the scheduled meeting date. Speakers will need to provide their name, topic, and phone number.
During public comment, speakers will have 3:00 minutes to address the Board. Speakers who require special accommodations (ASL, Language Translators), should also inform the Customer Relations representative when signing up to speak.
Click here to view the meeting agenda.
Meeting attendees will need to enter the north-facing door toward the west end of the building. All attendees/participants will be required to wear face masks during the meeting regardless of vaccination status (unless medical or developmental conditions prohibit use).
The meeting will be streamed via Facebook Live and on the Columbus City Schools' YouTube Channel, which allows the public to attend virtually.
Internet on CCS School Buses
It is recommended that the Board of Education approve the extension of the data plans associated with the hotspot devices from T-Mobile to provide internet on 100 school buses. The funds for this project were granted through the Erate Emergency Connectivity Fund. Earlier this year the E-Rate program offered an opportunity for districts to apply for grant funds to extend wireless access to students outside the school buildings. This is the first time in the history of the E-Rate program that this option has been available to districts. In addition, approved grant applications are funded at 100%, as opposed to the 85% that Columbus City Schools generally receives.
Principal Professional Development
In September 2021, the District was one of eight districts nationwide to receive the highly competitive Wallace ECPI grant in partnership with The Ohio State University, Ashland University, and The Ohio Department of Education. The District was awarded $1,783,132 in year one of the five-year grant.
As a part of the grant, the Wallace Foundation has designated that The Ohio State University College of Education and Human Ecology will receive $468,050 to establish the Institute for Equity-Centered School Leadership. This center will provide support for experienced building and district leaders interested in continued professional learning and opportunities for growth. This year-long experience will be designed to meet the specific needs of urban school principals in building their knowledge, skills, and capacities for equity-centered change.
Seventy New School Buses
It is recommended that the Board of Education approve the purchase of seventy (70) school buses from Rush Truck Center of Ohio, for $7,808,150. The new buses meet the highest emission standards with Cummins engines. The bid also includes two rows of integrated child safety seating on each bus and collision mitigation on the new buses. The collision mitigation uses wheel sensors to determine if the bus is about to fishtail or skid and applies brakes to maintain safe travel. The buses will also be equipped with forward-looking radar to sense objects in the line of travel and apply the brakes to avoid collision.
Interactive Learning
Using Elementary and Secondary School Emergency Relief Funds (ESSER), Board Members will be asked to approve a service agreement with Kami for $495,000. Kami is a leading digital classroom app built to transform any existing document into an interactive learning experience. Kami will improve engagement and collaboration while teaching in the classroom or online. Kami provides users with the essential tools to create an engaging and collaborative learning environment while using their digital devices. Kami tools boost students' creativity by allowing them to draw freely and annotate with a selection of colors, shapes, and text sizes. Students can easily complete tasks and save files with Kami's Google Classroom integration. Kami will be used to enable teachers and students to annotate electronically on their pdf and all other document assignments.
Safety and Security Upgrades
The Office of Safety and Security is responsible for maintaining and monitoring the District's safety and security systems which includes building alarms, fire alarms, and elevators. The current software program used to operate these systems is no longer supported by the District's main security panel infrastructure. Board Members will be asked to approve a contract for $131,000 with Convergint Technologies to upgrade the software.
The Entre' Security Monitoring Software program, a product of Digital Marketing Products (DMP), which is the District's security panel infrastructure, will provide the full functionality needed to operate the safety and security systems and panels. In addition, the Entre' Security Monitoring Software will support several other security programs used throughout the District.
Important Dates
November 22-26: Wellness Week at Columbus City Schools - All school buildings and administrative offices will be closed.
November 30: Facilities Master Plan Phase 6 – Transform: Choose an Option Region 6 Columbus Alternative High School 6 p.m.