Return to Headlines
Superintendent's Weekly Message - November 19, 2021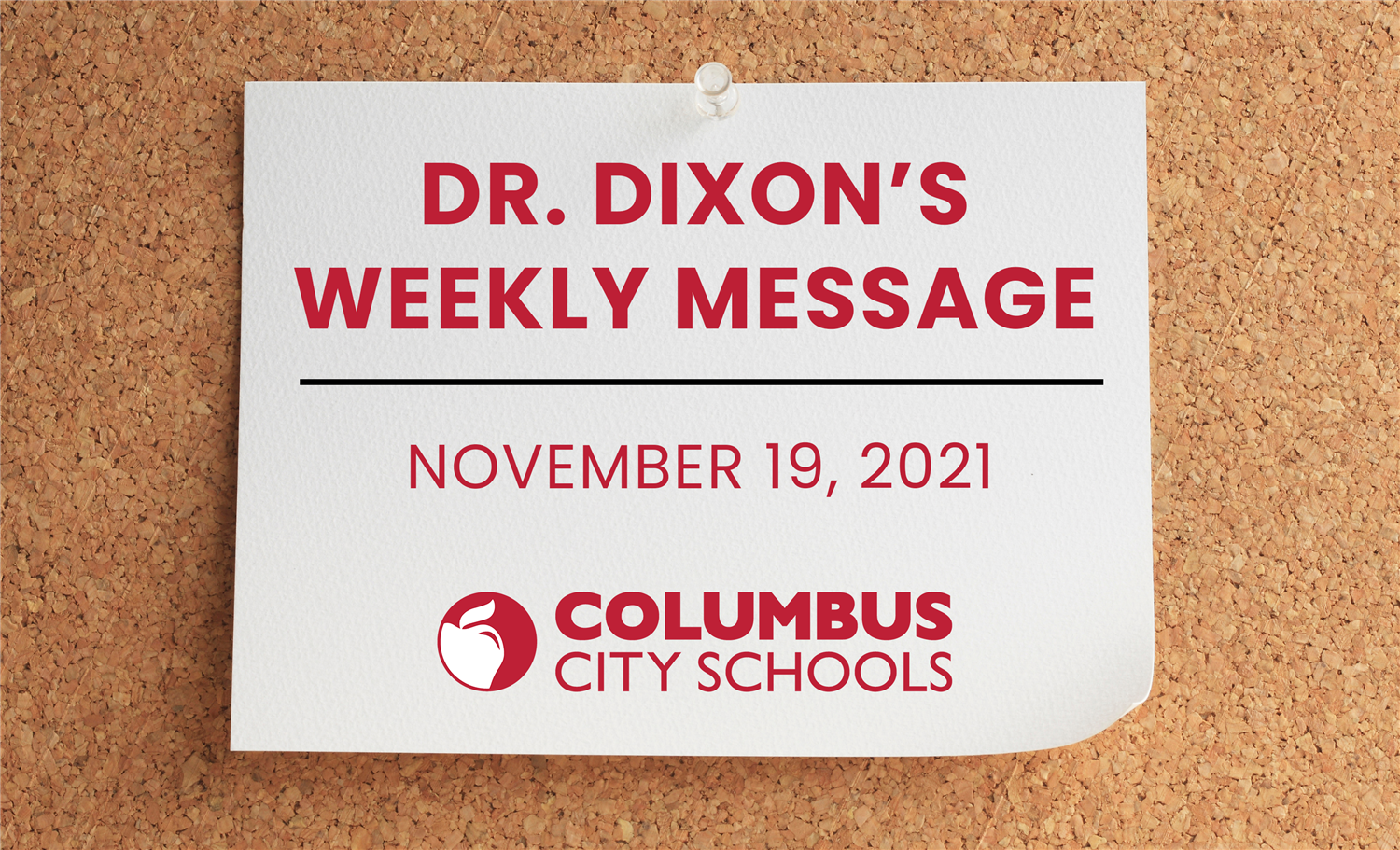 November 19, 2021 -- As we mark the end of another academic week at Columbus City Schools, I want to thank you for the perseverance and determination that you have demonstrated since the start of school in the summer. This school year has been incredibly challenging as we returned to five days a week of in-person learning for the first time in 18 months. The COVID-19 pandemic has been a strain physically, emotionally, and mentally on our entire CCS family, and we want everyone to use next week as an opportunity to recharge and celebrate the Thanksgiving holiday with loved ones.
While teachers will assign independent work due after the break, there will be no in-person or synchronous learning that week. We understand transitioning to asynchronous learning for November 22 and November 23 may be a hardship for some of our families, but as we continue to place an importance on educating and nurturing the whole child, we believe this decision is a necessary step considering the state of our district and community.
The District's Academic Services team has collaborated with partners across the city to identify and create an online Wellness Week Hub that lists the community and virtual exploration experiences and resources such as:
Free admission to the Columbus Zoo and Aquarium (RSVP Here);
Free and discounted admission to museums across the city;
In-person and virtual activities with Franklin Park Conservatory; and
One-of-a-kind virtual field trips with students around the world!
Students are also encouraged to think outside the box to create their own learning experiences during Wellness Week. That could be something as simple as creating a photo album or video journal during a family road trip or dinner on their iPhone and sharing it with their teacher and classmates when they return to school.
To all CCS employees, there is nothing quite like that feeling of the last workday before a break in the routine. While "Wellness Week" is something we all need, I urge you to look at the week away as the start of an important journey; a journey that is not necessarily defined in increments of days or weeks. One week is a great start to the rest and relaxation our minds and bodies need, but we should also look at this week as the start of a lifelong journey that regularly includes wellness and prioritizes our own well-being. What a wonderful lesson to share with our students. With wellness, we can conquer the challenges before us and in the future.
Thank you,
Dr. Talisa Dixon
Superintendent/CEO, Columbus City Schools