Return to Headlines
Columbus City Schools Teachers, Staff to Become Highly Effective Principals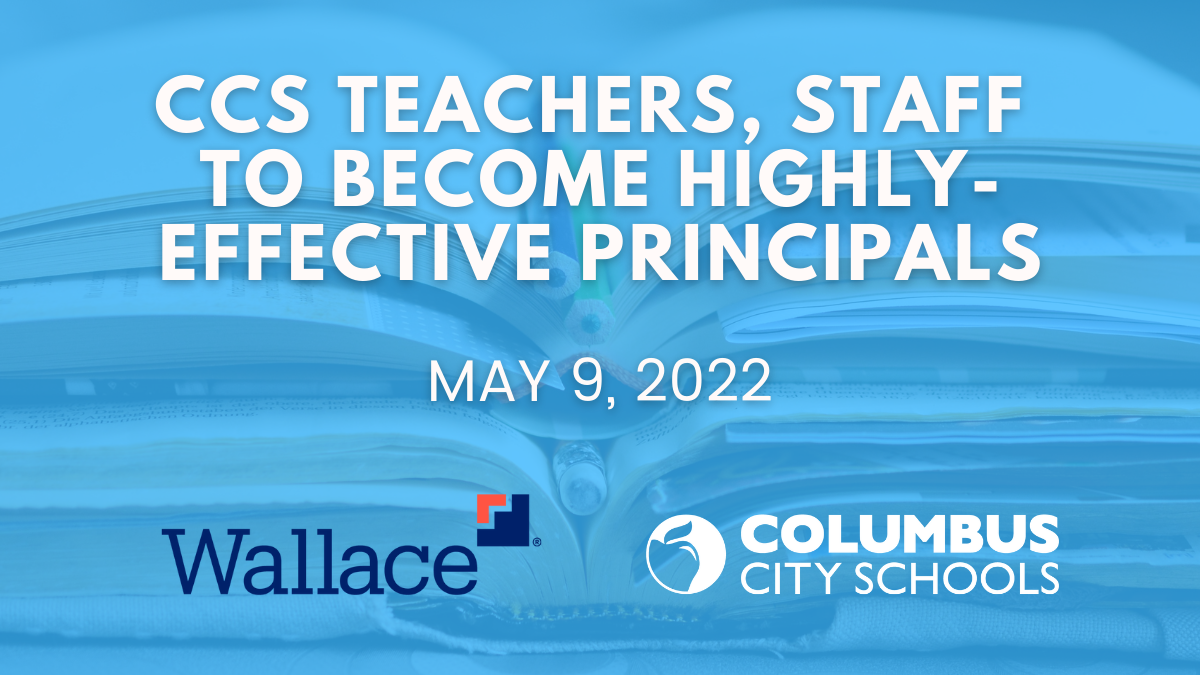 May 9, 2022 -- Twenty-four Columbus City Schools teachers and staff were honored on Friday during the CCS/Ashland Wallace Foundation Grant Principal Pipeline Inaugural Cohort Induction Ceremony. They are the first candidates to be inducted into the educational leadership cohort, part of the Equity Centered Principal Initiative funded by The Wallace Foundation multi-year grant awarded last fall.
The five-year initiative includes partnership opportunities with The Ohio State University, Ashland University, and Battelle for Kids to enhance the District's aspiring and emerging leadership pipelines. Current and future principals in CCS will benefit from equity-focused professional development curricula around system-wide change, reflection, and sustainability to benefit all students.
For now, the selected members for this first cohort will commit to the subsequent six semesters learning from Ashland University professors on the Fort Hayes Arts and Academic High School campus. The courses will prepare them to take the Ohio Assessment for Educators licensure exam for Educational Leadership, prescribed by the State Board of Education.
"I am really excited to learn and grow with my peers and other leaders through this program with equity at the forefront," said Seneca Bing, Emerging Leader candidate, who currently serves as a Family and Community Engagement Coordinator. "It's not where you start; it's where you finish. As leaders, we must take into account ALL our students and ensure we are providing pathways to success for all."
The Wallace Foundation chose CCS in part due to its ongoing strategies to grow school leaders as agents of change in their communities. These strategies include: utilizing stakeholder feedback to define and enhance the vision of equity within CCS, as well as allowing the District to launch a workgroup that will design A Portrait of an Effective CCS Principal: The Culturally Responsive Leader — an outline of knowledge, skills, and dispositions necessary for success as an urban school principal.
It is Priority Three of the newly implemented Strategic Plan at work; CCS is strengthening building-based leadership quality across all its schools by implementing the Wallace Principal Pipeline strategies.
"The Equity-Centered Pipeline Initiative (ECPI) is such an amazing opportunity for our district. The impact of a quality principal can be seen and felt in the classroom, the school, and the community in which they serve," said Candace Nespeca, Colerain Elementary School principal and CCS/Ashland liaison. "This work will allow CCS to continue to grow and refine leaders who serve with an equity lens, preparing all students for success."
Congratulations to the following future principals, and thank you for your commitment to equity-centered leadership:
Angela Akers
Marybeth Hackworth
Bethany Henderson
Amy Brown
Patrick Kane
Seneca Bing
Angela Leiding
Veronica Brownlee
David Madison
Michelle Bosse
Ayisha Marawi
Shannon Church
Linda Mensah
Tiffany Tynes Curry
Denise Sizemore
Travis Dunlap
Tiffany Tatum
Kendra McGaughy
Scott Wilson
Janaya Foster
Kayla Winn
Tammie Gale
Emily Yaksic
Celeste Gaver