Return to Headlines
District Art Teacher Wins Award of Excellence from Martha Holden Jennings Foundation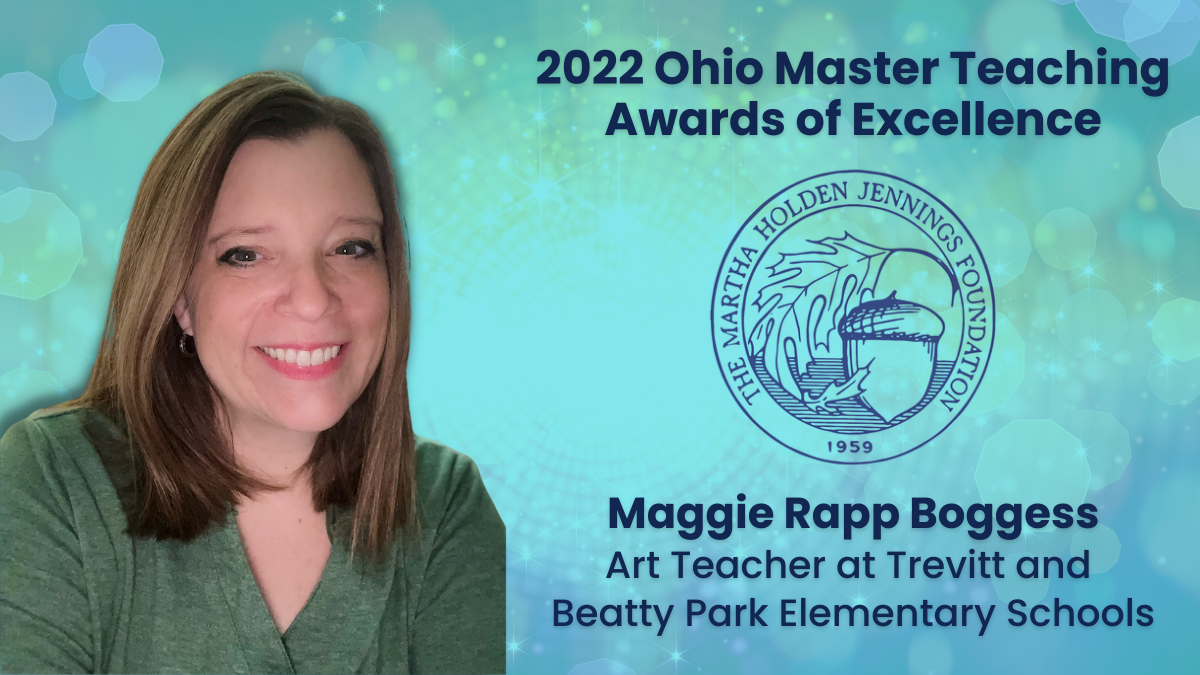 May 26, 2022 -- Congratulations to Maggie Rapp Boggess for being one of eight teachers in Ohio to receive the 2022 Ohio Master Teaching Award of Excellence from the Martha Holden Jennings Foundation. For more than 60 years, the Foundation has awarded more than $160 million in grants to Ohio's non-religious, public PreK-12 school programs that foster deep learning and excellent teaching.
"My role as a teacher is to facilitate ideas, promote agency, and nurture student confidence," said Rapp Boggess, the art teacher at Trevitt and Beatty Park. "I believe that creativity, compassion, and hard work are the most powerful catalysts for improved self-confidence, social-emotional growth, equity, and positive civic change."
Funded by the Martha Holden Jennings Foundation, Maggie Rapp Boggess just completed a total redesign of the "peace room" at Beatty Park. The finished space is where students can safely and healthily regulate their emotions in a room designed and created by them. Beatty Park provides a strong behavioral and education program for students with social-emotional and behavioral health needs.
Rapp Boggess said, "I work to create a culture of inclusivity, creativity, and open inquiry within our school. I am fascinated by how creativity impacts a classroom and emerging ideas."
Maggie Rapp Boggess has been a teacher for 19 years. She has been the art teacher to students at Beatty Park and Trevitt Elementary for the last seven. In addition to her duties at the district, she has also committed three years to the Cultivating Creative & Civic Capacities (C4) initiative with the Columbus Museum of Art and Project Zero at the Harvard Graduate School of Education. Funded by the Martha Holden Jennings Foundation, Rapp Boggess will help co-create a framework of powerful concepts and classroom-ready tools to nurture learners who practice imagination and critical thinking to make the world a better place.
"Maggie has shown herself to be an intellectually-dynamic leader," said Jessica Waddell, Beatty Park Elementary School principal. "Maggie finds ways for her students' work to live beyond the classroom walls, through murals and mosaics that promote community pride, posters that comment on issues students care about, and partnerships to connect with arts organizations and opportunities. Maggie is an example of leadership for students and teachers."
As a recipient of the Ohio Master Teaching Award of Excellence, Boggess will receive $1,000 to be applied to her classrooms.
Congratulations again, Maggie Rapp Boggess, for all you do for our CCS students!