Return to Headlines
Rising Seniors Gain College Credit This Summer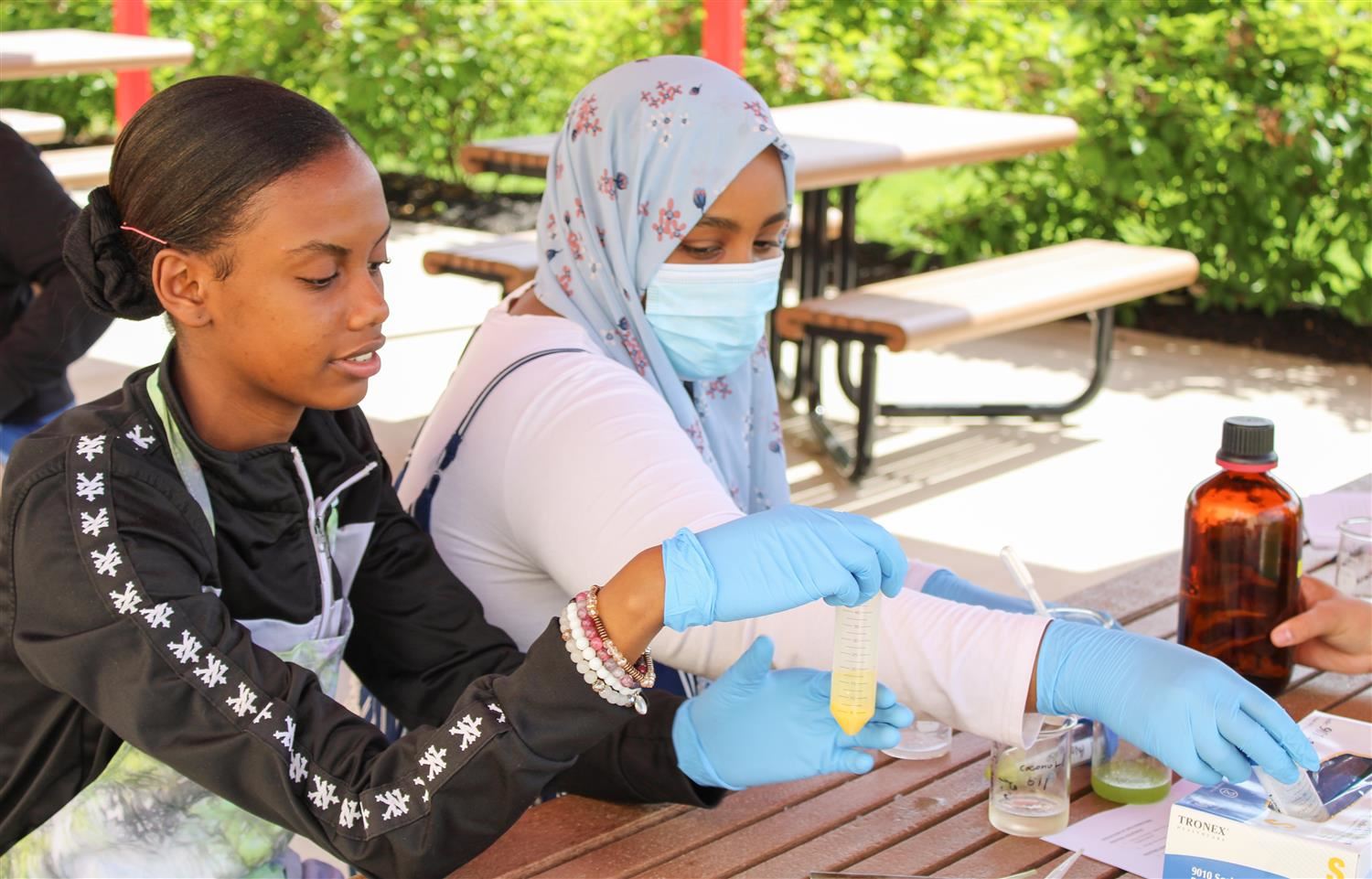 June 17, 2022 – With test tubes, beakers, and syringes in hand, several groups of Columbus City Schools rising seniors intently extracted lipids from avocados, coconut oil, margarine, and heavy whipping cream outside on a hot summer day.
Instead of taking it easy this summer, they applied and were accepted into the highly competitive summer Bridge to College program at Otterbein University. Fifteen students from three different CCS high schools attend two classes daily, four days a week, in June.
"Columbus City Schools students can follow certain pathways to get early college experience through College Credit Plus," said CCS College Credit Plus Coordinator Katie Lovera.
College Credit Plus is a dual enrollment program that allows all college-ready students in grades 7-12 who qualify to begin earning college credit hours before graduating from high school. This program aims to promote rigorous academic pursuits and provide a wide variety of options to college-ready students.
"This is a phenomenal group of students. They always come to class engaged and excited," said Otterbein University Writing Services and Tutoring Coordinator Kyle Eveleth, Ph.D.
MaLeah Marshall and Aaliyah Dear are rising seniors at Columbus Downtown High School. They learned about Summer Bridge from a culinary teacher and some representatives from Otterbein.
"It's an opportunity to take college classes during your high school years and get credit for both high school and college," Dear said.
"It definitely will help in the long run. If you decide to go to college, you wouldn't have to take that class," Marshall said.
The CCS students participating in Summer Bridge are:
Aiya Conteh – Northland High School
Nelly Mburgu – Northland High School
Madison Devers – Columbus Downtown High School
Afia Boadu – Northland High School
Helen Sigaran – Northland High School
Patience Ogundare – Northland High School
Aaliyah Dear – Columbus Downtown High School
Souda Isse – Northland High School
Junia Dieubon – Northland High School
Jerisha Gahatraaj – Northland High School
Ja'laura Morria – Northland High School
Melinda Mburugu – Northland High School
Madelyn Dumashie – Northland High School
MaLeah Marshall – Columbus Downtown High School
Grace Davenport – Centennial High School
"I would definitely recommend it to other students. It gives us a look at what college is like, what to expect in the future, and it really made me want to go to college more and think about what I want to do. Getting college credit is a plus," Dear said.
Once completed, the students will be one step closer to graduating high school – and college.
"I have no doubt these young adults will make excellent college students and career professionals," Eveleth said.