Return to Headlines
Board Meeting Preview: September 20, 2022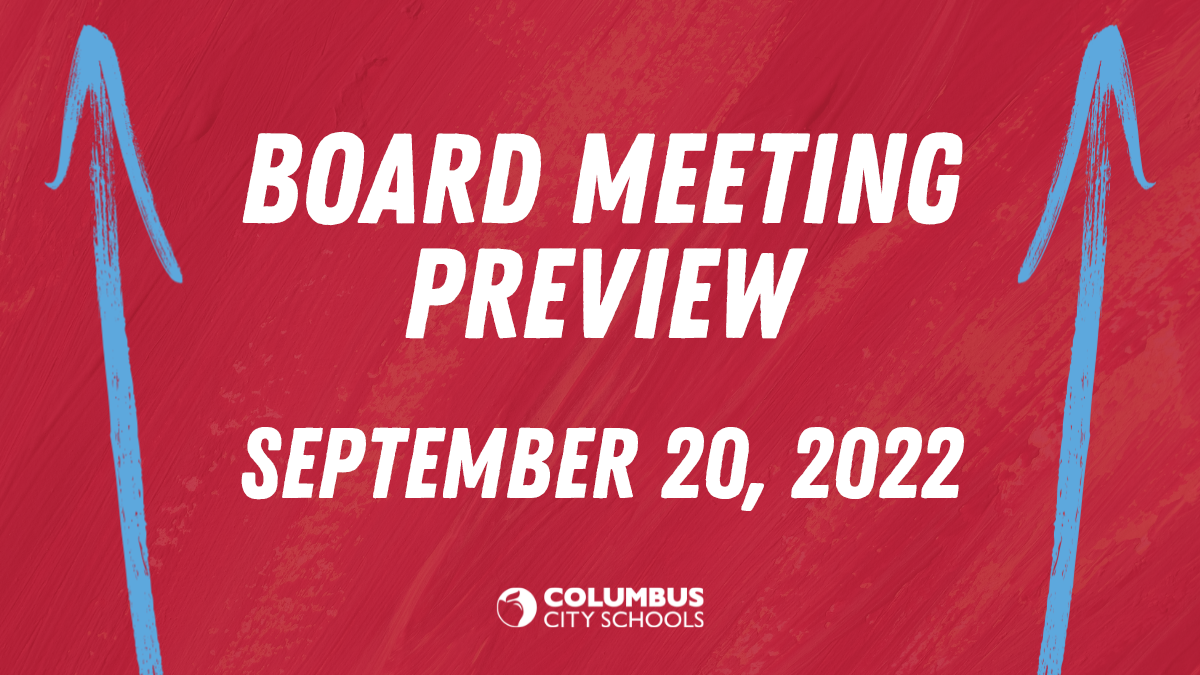 Columbus City Schools
Board of Education Meeting
Tuesday, September 20, 2022, at 5:30 p.m.
Viewing the Board Meeting
The Columbus Board of Education regular business meeting will begin at 5:30 p.m. at the Southland Center (3700 S. High St.).
Meeting attendees will need to enter the north-facing door toward the west end of the building.
The meeting will be streamed via Facebook Live and the Columbus City Schools' BOE YouTube Channel. For more information on meeting dates and times, click here. Also, visit the Columbus City Schools BOE YouTube Channel to view past Board meetings.
Meeting Agenda Topics
The meeting agenda topics include:
5.1 - Superintendent Dr. Talisa Dixon will provide a monitoring report regarding Board Goal 1: Strengthen Reading Proficiency - The percentage of third-grade students proficient in Reading on the Ohio State Test (OST) will increase from 43% in School Year 2018-2019 to 55% by June of 2026.
13.6 - The Board will be asked to authorize the administration to enter into a purchase of service agreement with Communities In Schools of Ohio (CIS). The mission of CIS is to surround students with a community of support, empowering them to stay in school and achieve in life by addressing both the academic and non-academic needs of students.
16.1 - The Board will be asked to authorize the administration to purchase rental HVAC equipment from DeBra-Kuempel Inc. on an as-needed emergency basis. This will allow for quick installation of temporary service if and when repairs are needed, to maintain business continuity.
16.3 - The Board will be asked to authorize the purchase of 60 metal detectors from Quality Security Systems. This process will assist Columbus City Schools with the detection and reduction of illegal/dangerous weapons or items being introduced into school buildings.
24.2 - Livingston Elementary School requests authorization to enter into a purchase of service agreement with the Boys and Girls Clubs of Columbus to provide after-school and summer programming for students in Math and Reading. Livingston Elementary received the 21st Century Grant which will be used to purchase these services.
For additional background information, and to view the full meeting agenda, click here.
Making a Public Comment
Any public participant wishing to make comments has the option of addressing the Board in person or by telephone. To sign up, public participants must call to leave a voicemail with Customer Relations at 614-365-8888 or email customerrelations@columbus.k12.oh.us by 3:30 p.m. on Tuesday, September 20. Speakers will need to provide their name, topic, and phone number.
Upcoming Meetings
September 22 - NSDP Committee Meeting, 8:00 a.m.
September 29 - Audit and Accountability Committee Meeting, 3:30 p.m.
October 4 - Regular Board Business Meeting, 5:30 p.m.