Return to Headlines
Columbus Board of Education Approves New Contract for Safety and Security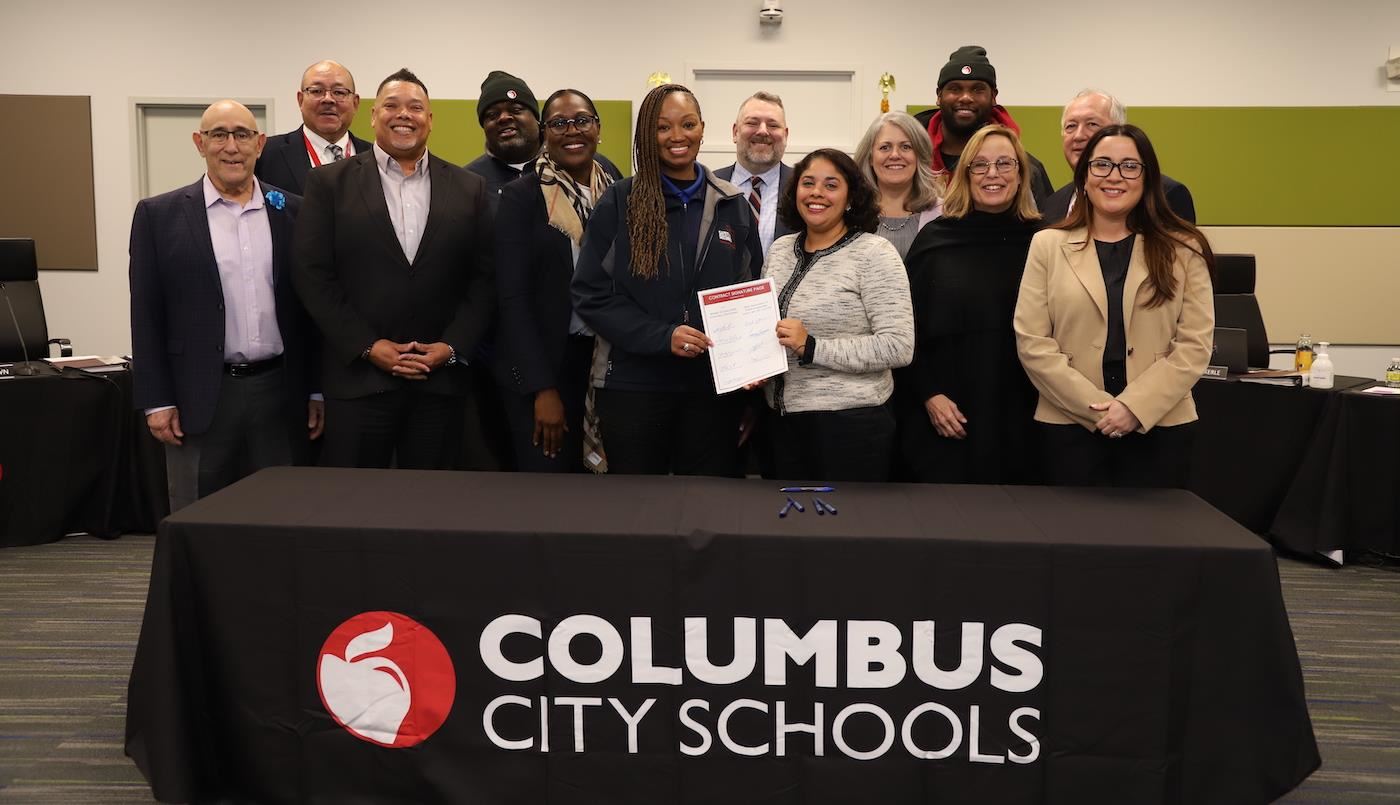 November 16, 2022 -- The Columbus Board of Education, at its meeting on Tuesday evening, voted unanimously to approve a collective bargaining agreement with the Ohio Association of Public School Employees (OAPSE) Local 581 Safety and Security.
This is the first contract for OAPSE Local 581. The unit was certified by the State Employment Relations Board (SERB) on April 28, 2022, after the Board voluntarily recognized the union, as OAPSE provided substantial evidence that a majority of the employees in the included positions were in favor of the union.
From July 19 through October 31, the parties met and negotiated a first collective bargaining agreement. Because it is the first contract, every provision had to be negotiated.
"We do believe in the power of collective bargaining and unions. We believe that it does make us stronger," said Columbus Board of Education President Jennifer Adair. "I want to thank the two negotiating teams, who represent us as well as Safety and Security. We had a collaborative, respectful dialogue, and we came to a great first agreement."
The bargaining unit includes all regular full and part-time employees employed as Safety and Security Specialist I, Safety and Security Specialist II, Safety and Security Training Coordinator, Safety and Security Compliance Investigator, and Accident and Safety Investigator.
The agreement includes an updated pay table that provides a 4% increase or more for nearly every bargaining unit member in the 2022-2023 school year and an additional 4% increase for the 2023-2024 school year. The contract will expire June 30, 2024, and a successor agreement will be negotiated to go into effect at that time.
In addition, members will receive four lump sum payments of $500 over the next two years to address recruitment and retention challenges in light of the COVID-19 pandemic. The first payment will be posted within 60 days.
The full compensation package can be read here: Part 1; Part 2.
Safety and Security staff have been leaders in the District's Safer Together initiative, with a proactive approach to bridging communication gaps, building relationships, and promoting positive student behaviors.
In addition to school safety, they work closely with local law enforcement and emergency management officials in developing and maintaining action plans for potential emergencies.
Board members expressed their appreciation and gratitude for the Safety and Security team.
"You are a key element to how we keep our students, our staff, our volunteers – everyone – safe," Board Member Christina Vera said. "We value you as a partner, and we are excited to make this happen today."
"We appreciate the work you do and we appreciate that you are the ones doing this work for us," added Board Member Eric Brown.
"I am really appreciative that we have extended and brought in our family," said Board Member Michael Cole. "You have been a vital part of our day-to-day operations.
---