Return to Headlines
Columbus Alternative High School International Baccalaureate Students Install Senior Artwork for Extravagant Art Exhibit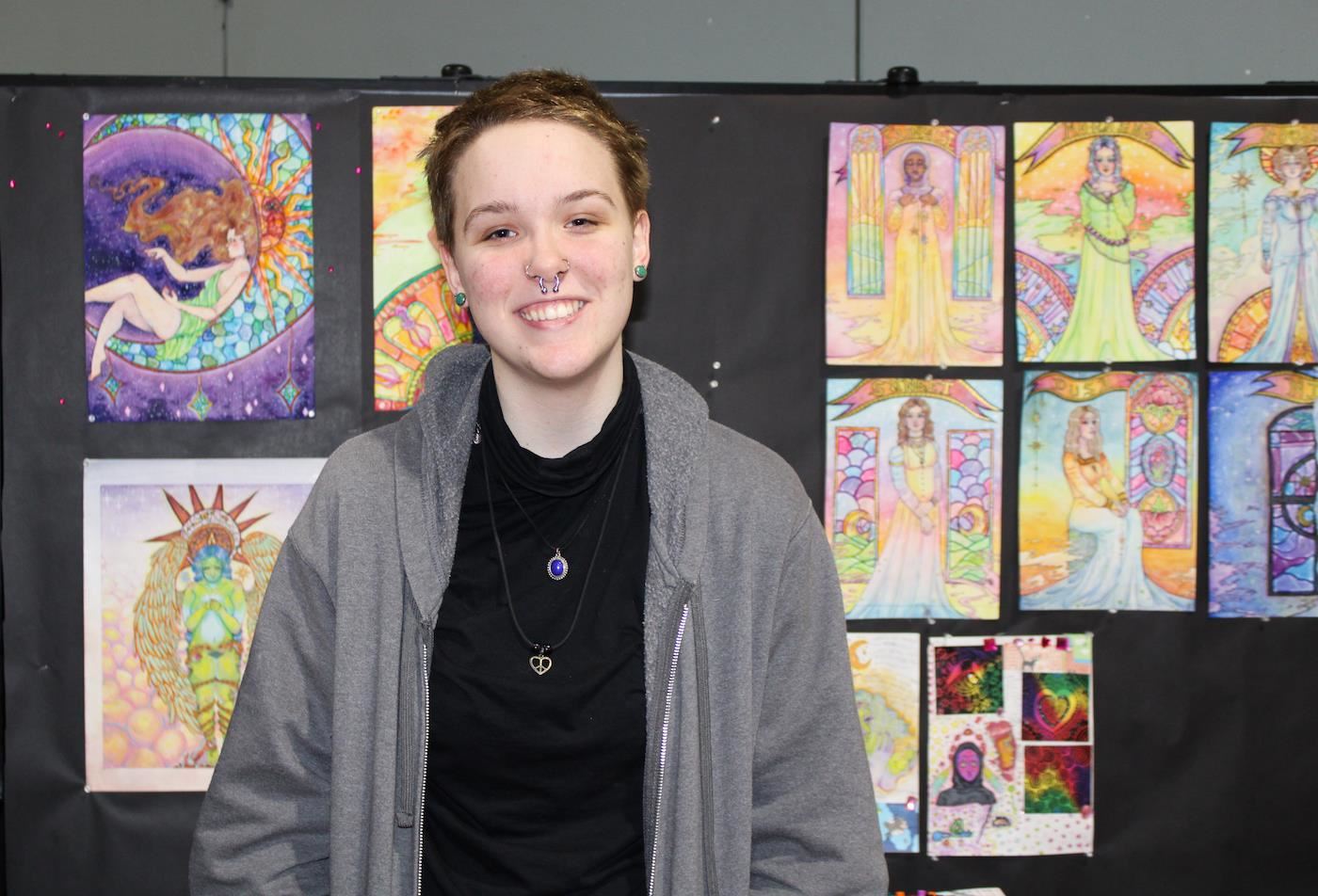 March 16, 2023 -- Visually stunning pieces of artwork decorate Columbus Alternative High School (CAHS) as students prepare to host a Senior Art Show. Students cut paper, mounted artwork, assisted friends, and designed layouts to start prepping for the grand opening on Thursday, March 16.
Twelve senior International Baccalaureate (IB) artists each have a feature wall, or rather something that resembles a small art gallery complete with 8-10 pieces of work. IB is a high school program that doubles as a highly respected college preparatory curriculum.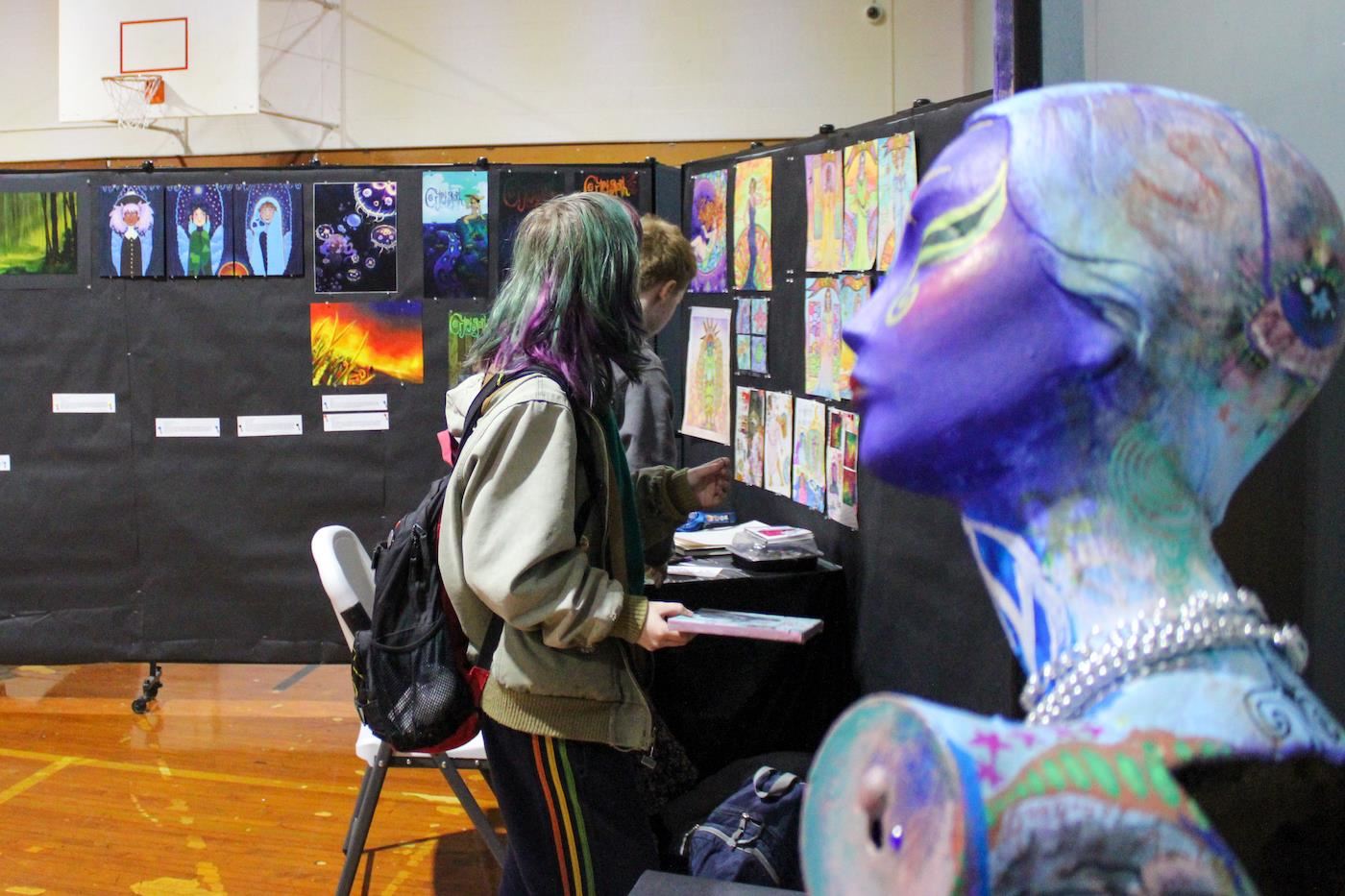 After two years of the IB art class, senior students host an art show as their culminating project. Throughout the week leading up to the show, CAHS seniors carefully installed their artwork by arranging canvas on walls or designing their space to be eye-catching. They couldn't be more enthusiastic about sharing their talents with friends and family.
"I think it's all about the experience and having fun," said senior art student Muriel Wood. "I'm excited to show all this work that has taken me two years to make to everyone in my school. Maybe now all of my teachers will understand why I've been drawing in all of my classes."
Led by Visual Arts Teacher Rachel Barkeloo, the artwork is a self-expressive piece of each artist and covers a range of topics that may be sensitive to others. Artists were free to choose their theme, however it must be meaningful to them. After deciding on a theme, students methodically created and selected artwork to match their vision.
"My theme is the world of colors," said senior art student Racheal Idowu. "Each of my artworks represents a different color of me. I have different mediums in forms of art that I'm introducing to make that work."
"I chose stained glass," Wood said. "I was inspired by medieval art, history, and literature. Big elaborate stained glass pieces in churches fascinate me, and I love the idea of telling a story through the stained glass medium."
Students had their junior and senior years to prepare for the art show. In conjunction with producing material for the show, they also completed other IB art requirements, such as a process portfolio and comparative study.
"We weren't just focusing on this art show," Wood said. "A lot of junior year was spent on the process portfolio because we had to make seven to eight separate pieces of art for that, and a piece for the comparative study. This is not everything I've done across the two years, it is only the curated stuff that fits my theme. Art is my very passionate hobby. It is definitely something that I'll do for the rest of my life."
Please support the CAHS IB seniors as they showcase their artwork!
Opening night is Thursday, March 16, from 6-8 p.m. Admission to the exhibit is free. All visitors should enter near the cafeteria or gym doors with the CAHS sign.
The Senior Art Showcase runs with the CAHS Celebration on March 17 from 6-8 p.m. There is a $10 admission that benefits the Parent Teacher Association (PTA). Celebrate the revival of all the amazing aspects that make CAHS great! The celebration includes special student performances, tours, a student makers fair, light refreshments, and a 50/50 raffle. All proceeds support CAHS students, teachers and a new scholarship for graduating students.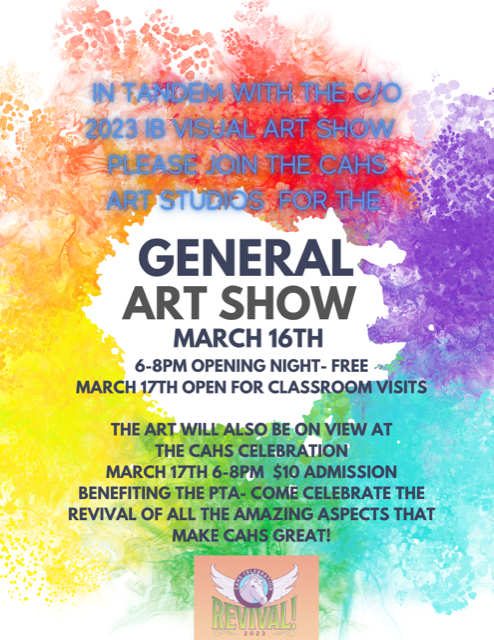 ---