Return to Headlines
Columbus Alternative Seniors Mary and Remmon are Well-Prepared for their Future with IB Program's Rigorous Curriculum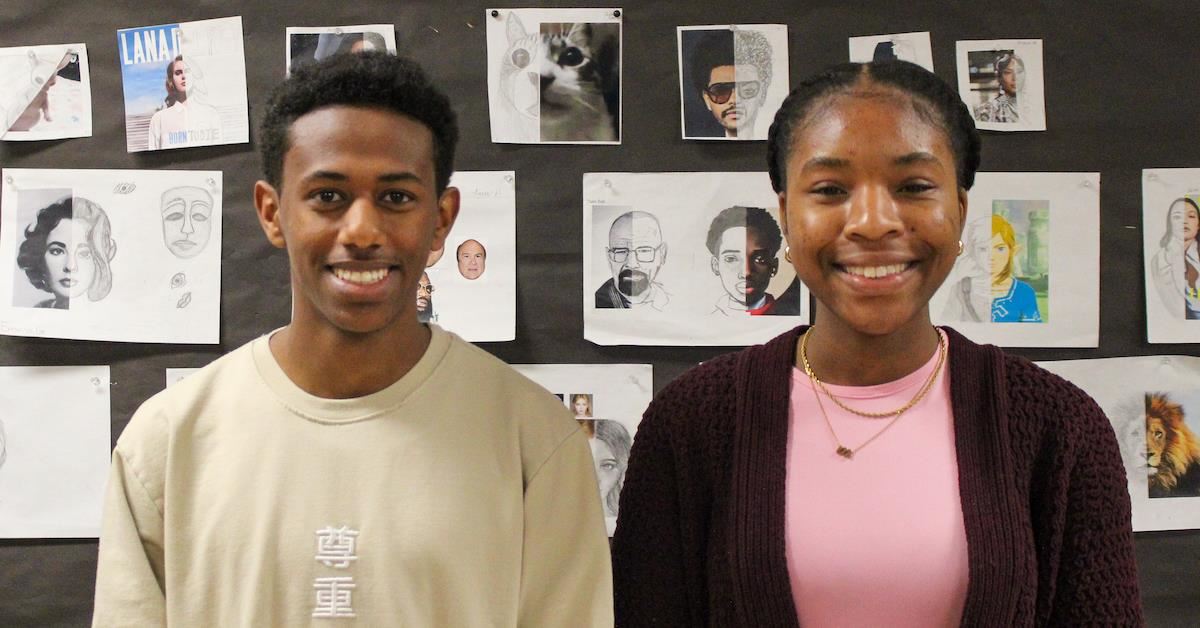 May 25, 2023 -- Mary Takem and Remmon Mengisteab are two remarkable graduating seniors with a lot in common.
They both go to Columbus Alternative High School (CAHS), take International Baccalaureate (IB) Diploma Programme courses together, speak two languages fluently, and have overcome learning obstacles during the pandemic. They also happen to be the oldest sibling in their family, enjoy volunteering through their church, and have parents that immigrated from other countries.
While their journeys up until now share many similarities, life after CAHS is taking them down different roads.
Takem plans on getting a job right out of high school. She already has her dental assisting and dental radiographer certifications from the Fort Hayes Career Center. After graduation, she intends to work in the field as she attends a dental hygiene program at Columbus State Community College.
Unlike Takem, Mengisteab did not know what career he was interested in pursuing in high school. By enrolling in the IB program, he was able to explore his interests and future career options. It led him to discover his passion for math and science, and he intends to pursue engineering and materials science at The Ohio State University.
"I believe the IB courses have shown me the kind of rigor that college expects," Mengisteab said.
IB is a high school program that doubles as a highly respected intense college prep curriculum for high school juniors and seniors. According to the website, IB encourages students to think beyond the boundaries of their communities and see themselves as members of a global society while emphasizing intercultural understanding and enrichment.
While the COVID-19 pandemic brought so much uncertainty, it also became a catalyst for inspiration for Mengisteab. He made a pact with himself that when schools were back open, he would commit to advancing academically, physically, and socially.
"It was hard to learn and keep up with my classes when everything was online," Mengisteab said. "I couldn't push myself like I wanted to because of everything happening at that time. It was a lot. I will never take learning in the classroom for granted again."
Engaged in his studies and now a member of his home school's soccer team, he had to find the right balance, which was extremely difficult. After discovering harmony between sports and academics, Mengisteab was thrilled he rose to the challenge and successfully made it work.
"Playing soccer taught me something different than academics, a lot about how to persevere and continue to play and fight hard," Mengisteab said.
Even at a young age, Mengisteab enjoyed playing soccer when he lived in Eritrea in East Africa. When he was 10, Mengisteab moved to the United States with his family. Assimilating was difficult because he, his parents, and five younger siblings did not speak English when they arrived in the United States.
"My native language is Tigrinya, and I've been working on getting my second language, English, better for eight years," Mengisteab said. "And I think the American teachers here, especially the teachers at CAHS, are really understanding. They worked with me and were so patient."
Takem's parents are from Africa, like Mengisteab's, but her mom grew up speaking French.
"They're from Cameroon, which is east of Nigeria," Takem said. "Most of Cameroon speaks French, which is what my mom grew up speaking, but there's a small part that's English."
When Takem was a rising Kindergartener, her parents enrolled her at Ecole Kenwood French Immersion so that she too could learn how to speak fluent French. From there, she attended Columbus International middle school and decided the best fit for her high school years was CAHS.
Takem enjoys attending CAHS because everyone is so accepting, and it helped her get out of her shell. She can talk more freely, be open around others, authentically be herself, and do things she never thought possible - like being on stage.
"And then at the Career Center, we just recently started doing internships, so on Mondays and Tuesdays for the whole month of May, I was going to a dental office. I was there last night helping with X-rays," Takem said.
Both students are excited about their next step and feel that their education at Columbus City Schools has prepared them well for whatever comes their way. We wish them the best of luck in their next chapter of life! Congratulations, Class of 2023!
---