Return to Headlines
Trotting into Learning: Trevitt Elementary Schools' Visit to Dreams on Horseback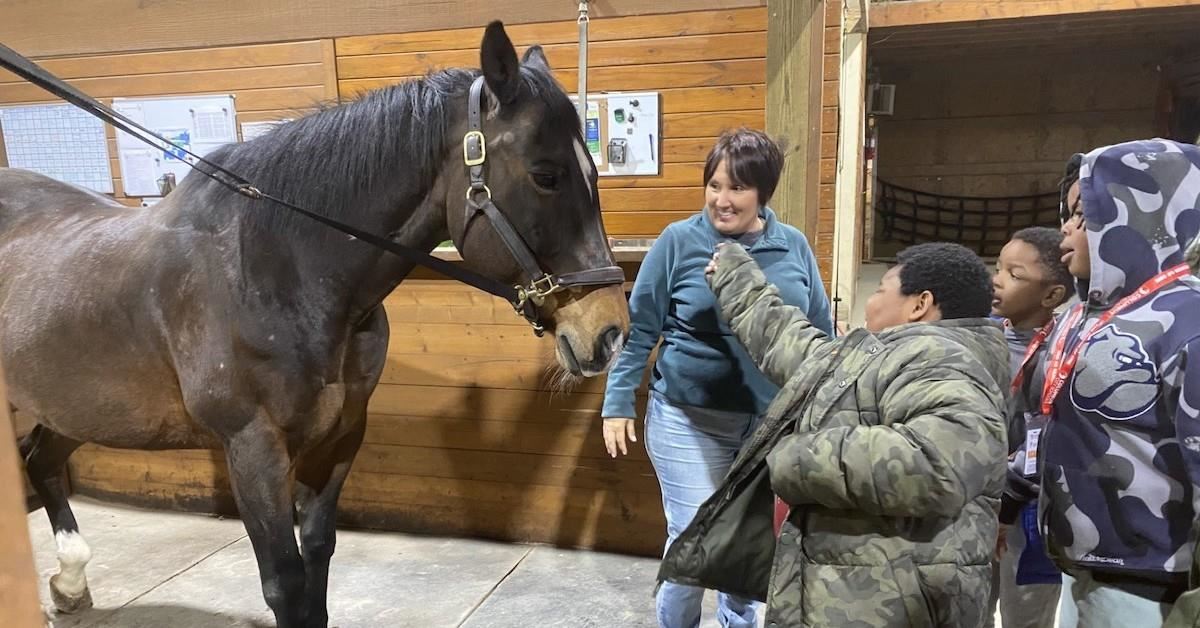 May 31, 2023 -- "Giddy up, y'all!" The adventurous students at Trevitt Elementary School recently saddled up for an epic field trip to Dreams on Horseback, which provides equine therapy, vocational training, and sensory experiences for children and young adults with disabilities.
Trevitt students were thrilled to meet the horses and learn about how essential care is for them. With the help of the professionals at Dreams on Horseback, they learned how to approach and interact with the horses safely, groom them, and even feed them.
Principal Dr. Keisha Fletcher-Bates was thrilled with the students' enthusiasm.
"I could see the positive impact on the students' self-confidence and communication skills, and we're delighted to give our students the opportunity to learn and grow through new and fun experiences like this," said Fletcher-Bates.
During the visit, students learned the importance of equine therapy and how horses improve physical health and mental well-being. They learned from staff experts that horses can provide children with disabilities a sense of freedom, confidence, and relaxation.
"Our mission is to enrich lives with horses," said Ellen Lee, marketing & development director with Dreams on Horseback. "We work with six school districts for social-emotional programs, and we do a lot of therapeutic riding for children and adults with special needs."
To make the visit even more enjoyable, the students played fun games with the horses to develop trust and a special bond.
"There's great confidence in learning to lead a 1200-pound animal but learning to do it safely and piece by piece," said Lee. "So, for some students, even approaching the horse takes a lot of self-control."
The Trevitt scholars found their participation in Dreams on Horseback an exhilarating and unforgettable experience. Along with acquiring valuable knowledge, they had the privilege of forming intimate bonds with these magnificent animals, leading to a profound appreciation that will stay with them.
Just ask third-grade student Anaya Johnson.
"My favorite part of the day was learning about the horses and being able to pet them," said Johnson. "I was super duper excited all day."
The trip to Dreams on Horseback was a one-of-a-kind experience for Trevitt Elementary students. The interactions with horses and expert guidance offered an insightful and lasting experience.
"Not only did they learn a lot, but they also got the chance to be up close and personal with these beautiful animals, developing a newfound appreciation for them," said Fletcher-Bates. "The students were ecstatic throughout the trip and left with huge smiles and cherished memories."
---