Return to Headlines
Adult & Community Education Receives Ohio Reach Postsecondary Designation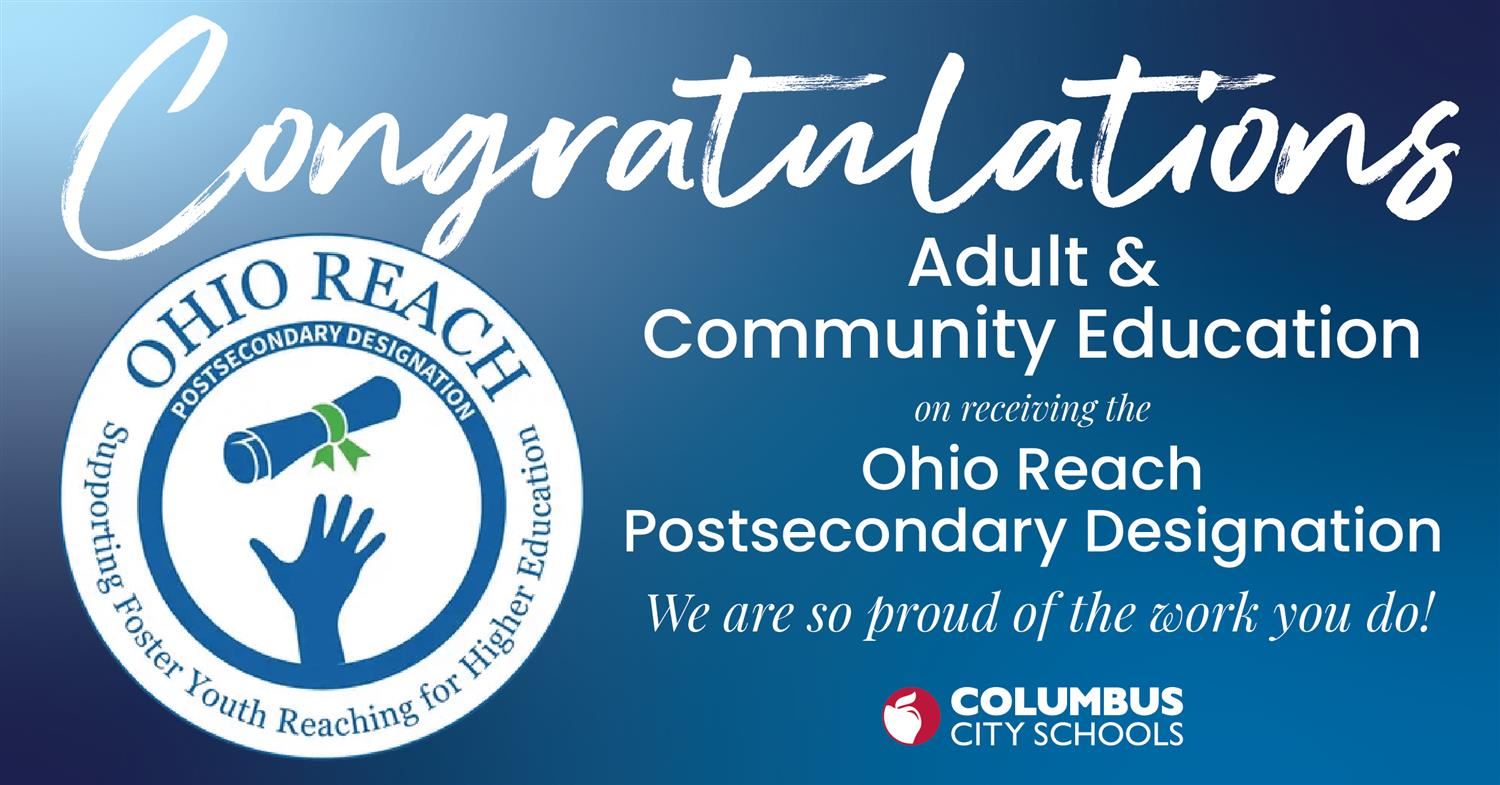 September 15, 2023 - The Adult & Community Education Department within Columbus City Schools recently received statewide recognition.
The department received the Ohio Reach Postsecondary Designation, given to educational institutions committed to supporting students connected to the foster care system. Adult & Community Education was one of only 28 state postsecondary programs to achieve this designation.
Adult & Community Education is a CCS division dedicated to offering students a strong postsecondary education. Adult & Community Education have courses that can be taken in health occupations, skilled trades, and computer applications. The division also offers opportunities for students to earn their high school diploma equivalency. It provides resources for non-native English-speaking adults to learn to read, write, and speak English. Anyone who lives in the state of Ohio can utilize these courses.
Laura Partridge, a resource counselor with Adult & Community Education, said their department works to help each student individually. The designation is designed for organizations that work with foster care students. Partridge said their goal is to ensure each student has the same opportunities regardless of background.
"If a student was in the foster care system or any system, and they are struggling with needs, we help direct them to different services," Partridge said. "We look at where they are and see how we can get them past whatever hurdle they are facing so we can help them further their education."
Ed O'Reilly, the Director of Adult & Community Education, said this designation is a testament to the hard work of the Adult & Community Education students and staff.
"I am so proud of the work our staff does to support all of our students," O'Reilly said. "Our students face barriers, and we work to help them overcome these barriers. This designation further indicates our District's dedication to each and every student."
Adult & Community Education offers a variety of resources for people interested in pursuing a postsecondary education. For more information, click here to visit their website.