Return to Headlines
Super Sisters Team Dominates App Competition, Awarded $20,000 Scholarship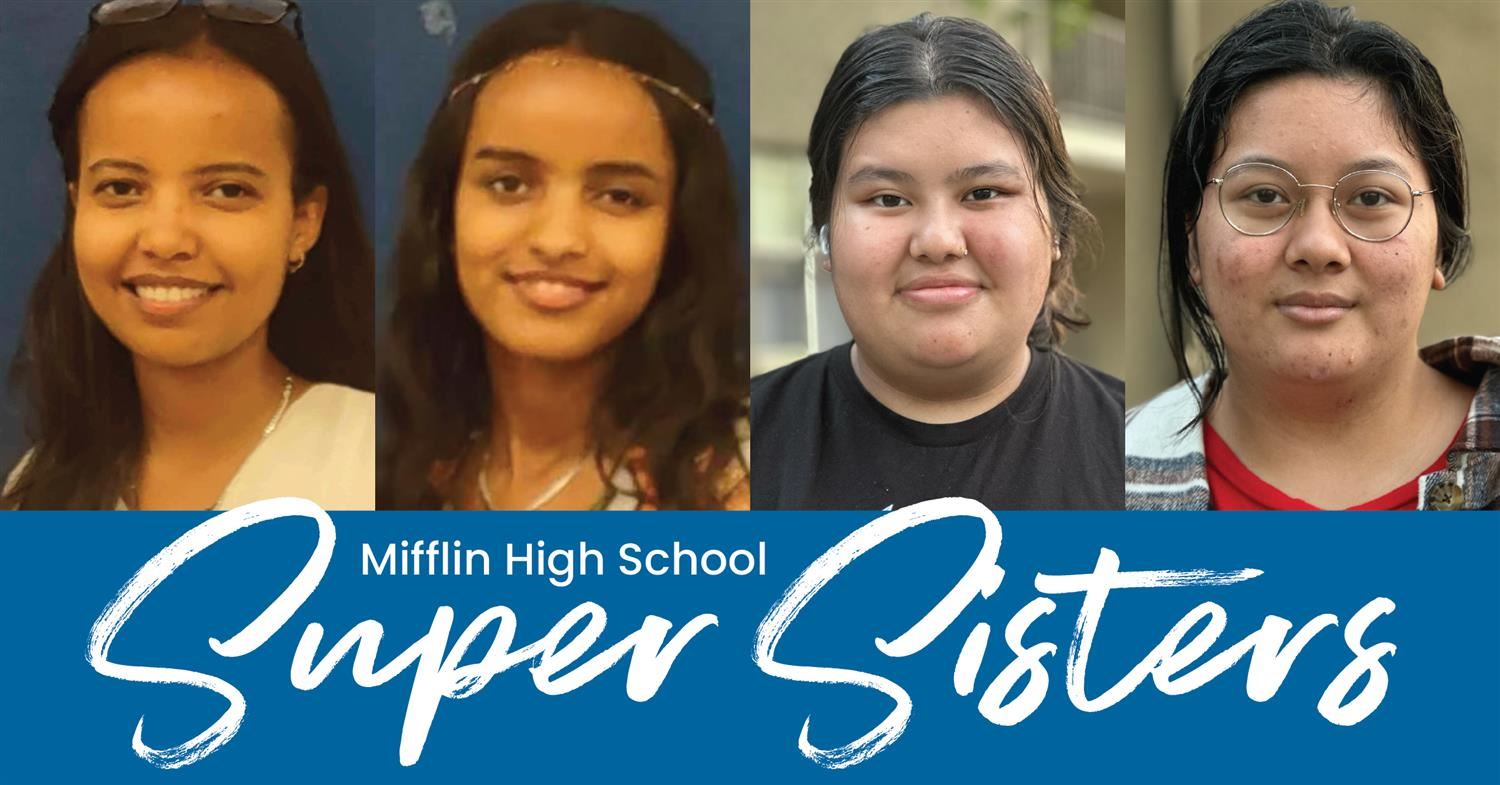 September 21, 2023 — Four students from Mifflin High School took home the first-place prize of one $20,000 scholarship from the CGI I.T. Girl Challenge of Central Ohio.
Competing under the group name "Super Sisters," Snit (senior) and Hosaena Araia (junior), and Phunstock (senior) and Karma Wangchuk (junior) joined forces for the mobile app challenge.
"We're super when we're together," Hosaena commented about how the sisters initially planned to compete against each other before ultimately deciding to join forces.
Under the guidance of former math teacher, Monique Patrick, the sister-sister duo delivered an app that Patrick described as "outside the box."
"I challenged them to think of ideas for apps that haven't already been created," said Patrick, who now teaches high school math at Columbus Online Academy. "I was blown away seeing it all come together."
The app was designed and built to help students take control of their education by allowing them to track and navigate their graduation pathway.
"When I was a freshman, I was so shy," said Snit, who expressed her difficulty gaining confidence when communicating with the adults in the school. "I didn't know where to find the resources, programs, internship hours, and graduation requirements. I was lost."
Course schedules for first-year high school students are completed by guidance counselors. "You become dependent on someone, and I don't want to be that person. I want to be independent," Snit added. "This is your life. You should be the one that decides."
The app gives students that autonomy Snit wanted for herself. It hosts pages full of information for each grade. Housed on each grade page are categories with important information catered to grade level such as internship hours, career center options, testing requirements, counselor chat, and more.
Upon completion of the app, the Super Sisters submitted the "whole package" of the finished app and a video tutorial to a panel of judges.
"I was expecting third place, at most," said Hosaena.
After a rigorous, virtual live session of questions and answers, the Super Sisters were awarded first-place honors that included the $20,000 scholarship.
"I still cannot believe it," said Karma. "We were just doing [the competition] for fun, but we won!"
Essential to the success of any group project is the contribution of all team members. Additionally, the girls learned even more about themselves and their sisters throughout the process.
"If you work together you are always going to get something," Hosaena said. "You're not just working with one mind, for us, we were working with four minds coming together for one app. It created this amazing app that will help our community."
The team expressed their desire to see the app come to fruition as the Girl Challenge does not fund the production of the app. "We hope that schools can use it," said Snit.
"I hope this boosts their confidence," added Patrick. "Confidence in knowing that they can do this. They can do anything they put their minds to."
The Super Sisters decided to split the $20,000 scholarship among the four of them to assist with paying for college.
As seniors, Snit and Phunstock are in the midst of mapping out their futures. The pair plans to pursue medical degrees following graduation in June. Snit hopes to attend The Ohio State University, while Phunstock remains undecided about which university she will attend.
Thanks to working on this project, Hosaena and Karma are enrolled in information technology classes as part of the Career Technical Education program at Downtown High School.
"I want to pursue animation," said Karma. "I want to tell my story."
"My goal is to change our community," said Hosaena. "Doing this app made me realize that [Information technology] is the perfect [career path] to do just that."
---