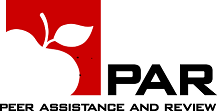 Peer Assistance & Review (PAR)
The Columbus City Schools are continuously striving to provide the highest possible quality of education. For students to succeed in learning, teachers must succeed in teaching. The PAR Program has been designed to improve the quality of instruction by assuring that all teachers experience professional success.

Since 1985, the program has been a continuous joint effort between the Columbus Education Association (CEA) and administration, with the goal of providing assistance and support to teachers entering the profession (intern) and to improve the performance of experienced teachers who are encountering some difficulties (intervention).

PAR Mission

Each student is highly-educated, prepared for leadership and service, and empowered for success as a citizen in a global community.

PAR Vision

We shape the future-one teacher at a time.

PAR Smarter Goal

The Peer Assistance and Review (PAR) program will increase the professional growth of teachers in the district through specific instructional mentoring, support, professional development, and rigorous evaluations of teaching performance as measured by the evaluation system and licensure requirements. The PAR program will explore new opportunities to engage teachers in individualized growth and to support communities of reflective practice resulting in increased retention rates at the end of the school year.


(614) 365-5110 Phone

(614) 365-5114 Fax
"What was most helpful about PAR?'"

2022-23 New CCS Educators

"My PAR was amazing! She was kind and compassionate and helped me so much throughout my first year. I truly loved having her and would have struggled so much more without her. She taught me so much that we would not learn or know without having a PAR. I truly appreciate everything she has done for me."

"My PAR was an invaluable resource for knowing what was going right and what could be improved in my teaching practice in this new setting. His advice and feedback were timely and helped me adjust lessons and plans to be effective. I also like having him as a sounding board to bounce ideas off of."

"Getting regularly positive feedback and great suggestions/ideas to improve is very encouraging and motivating."

"Knowing I had the support of my PAR, made a huge difference. I always felt I had someone who wanted to help me be successful."

"PAR was helpful in sharpening skills I learned from my graduate program into real working situations. I was able to work with my PAR through situations where I needed some professional affirmation of my programming or needed constructive feedback."

"My PAR mentor was authentic, realistic, supportive and treated me with integrity. She made space for me to experience my full range of emotions throughout this process."