Athletics and Student Activities
Return to Headlines
Linden-McKinley Boys' Basketball Giving Back To The Community
April 5, 2023 -- The Linden-McKinley STEM Academy (LMSA) Panthers boys' basketball team approaches the game of basketball in the same way the team contributes to the community – giving nothing less than 100 percent.
Players donate time to make their community a better place. They work hand-in-hand with local partners such as St. Stephens Community House to provide outreach to their local community. In addition, they also mentor the youth at Hamilton STEM Academy through a program called McKinley Mentors. Basketball players hosted a clinic for the Special Olympics at the beginning of the year.
"Earlier [this school year] we did Thanksgiving at Linden Rec," said LMSA freshman Marquis Lucas. "We go around helping pick up trash in the streets and do a lot so the community can be better, and people can walk around and see that Linden is not as bad as everyone seems to think."
As it turns out, good deeds rarely go unnoticed and are often rewarded, which is exactly what happened to the LMSA Panthers.
St. Stephens Community House Chief Executive Officer Marilyn Mahaffie received an unexpected phone call from a friend asking how she could help give back to the community. That friend of 30-plus years happened to be Under Armour Executive Vice President and Chief Product Officer Lisa Collier, who has family roots in Ohio, and Columbus holds a special place in her heart.
"Marilyn has been a long-time friend of mine," said Lisa Collier. "I was thinking about a way to give back to the community. I didn't know where to start, so I asked Marilyn if she had any sports programs [at St. Stephens]. I'm trying to think of some type of connection to give back to sports that are personally from me to represent what we do at Under Armour."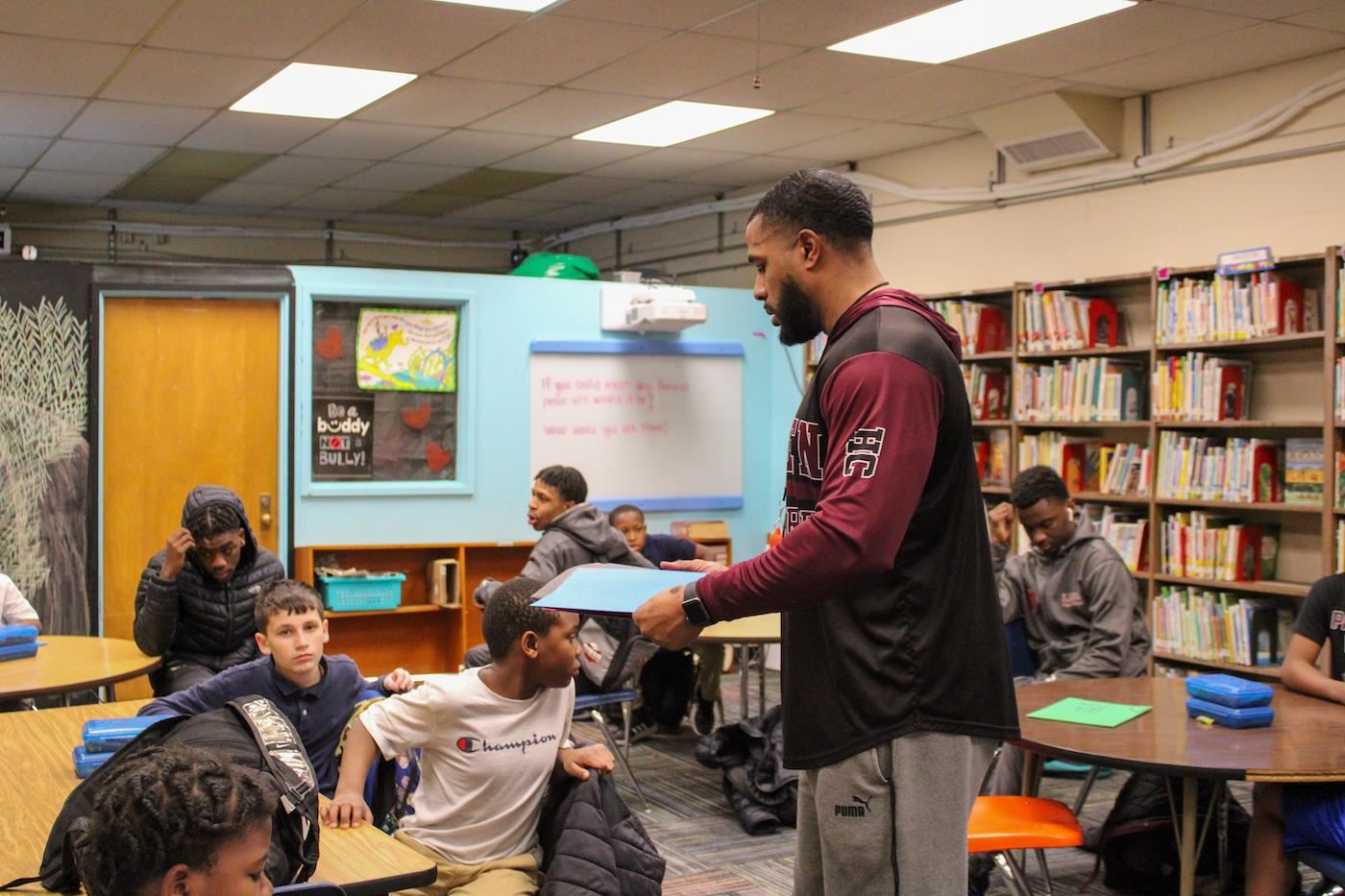 That was when Mahaffie told Collier about all the incredible things the LMSA Panthers were doing. She told them about the basketball team's McKinley Mentors program, community clean-up efforts, and donating hours upon hours to help out with holiday drives.
"In the McKinley Mentors program, we did a lot of character development," said senior and LMSA basketball player Christopher Towns. "Like, different characteristics, to be respectful and honest. Just teaching [the younger students] what it is, and examples of it so they can do it in their livelihoods as well."
Mahaffie also mentioned that the LMSA Assistant Basketball Coach Ian Knickson worked at St. Stephens full-time, and head Coach Kevin Darthard had also worked at St. Stephens.
"I am just a big admirer of both Ian and Kevin giving their time and being such good role models for those young men at Linden McKinley," Mahaffie said.
It seemed like the perfect fit to Collier, and she was on the phone with Coach Darthard in no time.
"When I talked to [Darthard], what was so fitting is how important it is for his team and him to give back to the community," Collier said. "I love those values. We dedicate 40 hours in a calendar year to allow our employees to donate or give back."
Last year, Under Armour provided home and away uniforms. They were complete with shorts, jerseys, and travel gear; coaches also received new polos. This year, players received shoes and shooting shirts to wear during their mentoring program. These weren't just any shoes. They were the epic Stephen Curry basketball shoes - making the players the envy of any high school basketball player.
"Having a new uniform, regardless of the performance the uniform provides, gives confidence to the kids when they're out on the court," Collier said. "It provides a prideful perspective."
And that donation paid off, as the Panthers went on to win Districts in 2022 – for the first time in 30 years.
"I truly believe that last year we had a monumental year," Darthard said. "We had an extra spark of energy when we entered the tournament. Lisa is so amazing and Under Armour is so gratuitous and amazing."
After a fantastic basketball season last year, the students had a phenomenal school year, with most McKinley Mentors students receiving top honors and making the merit and honor rolls.
"I hope they gain leadership skills, which it seems like they are because they are, in turn, giving back and learning the power of that gift," Collier said. "As they grow and develop, I hope they feel proud. I know that many of them have some challenging upbringings and backgrounds, and hopefully, this is a point of honor and pride for them and that they can feel good about themselves and gain confidence."
"It feels great," Towns said. "The Steph Curry shoes feel great. And the jerseys feel great. We look good out there."
---