Community Engagement & Partnerships
Return to Headlines
Black Girl Dad Week Brings Father Figures to School for Discussions About Education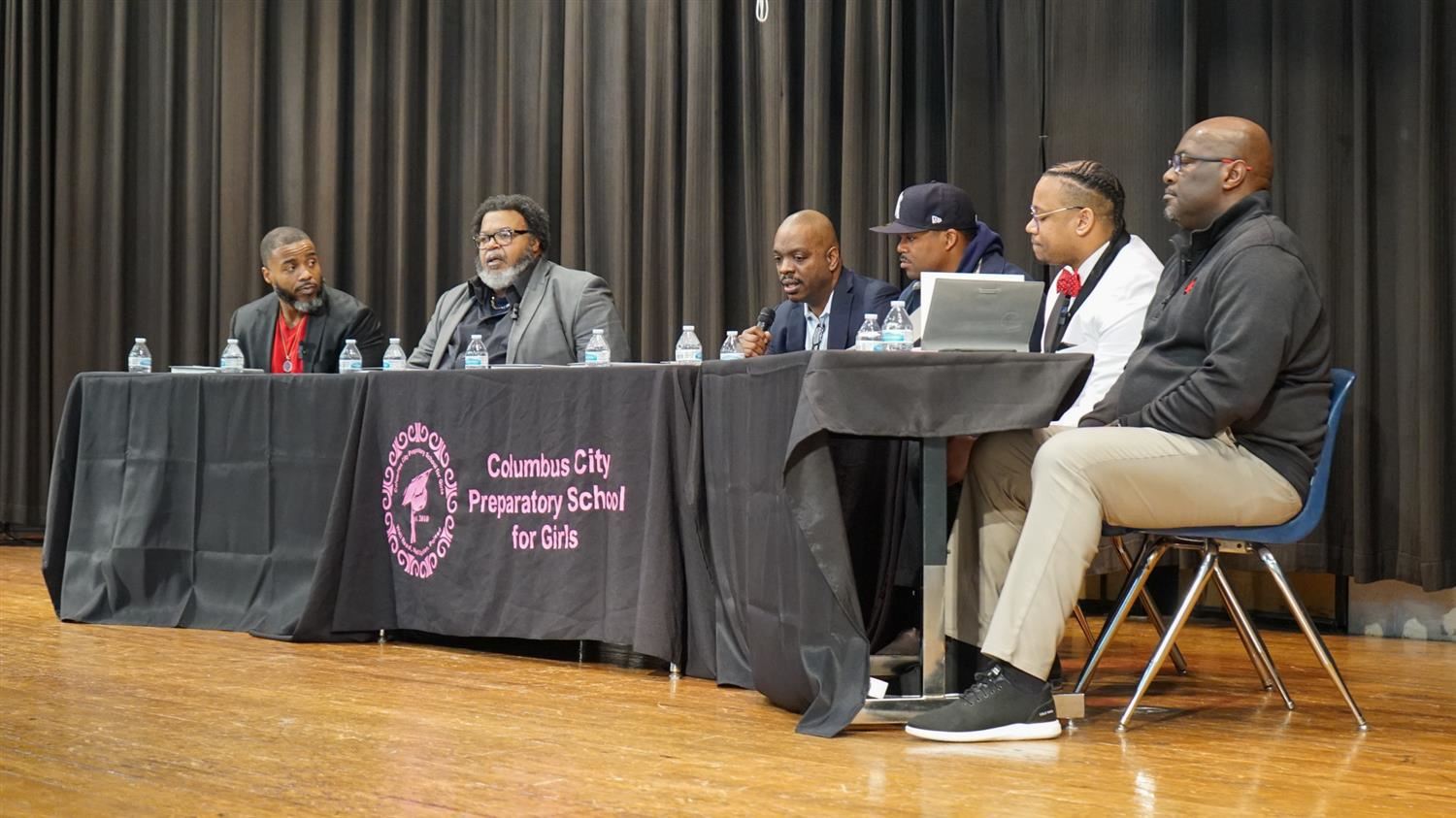 February 28, 2023 -- The Columbus Urban League, Male Behavioral Health, and several other community members teamed up to host Columbus' first ever "Black Girl Dad Week" from February 13th- 19th.
The week included several events and activities that allowed men to discuss ways to support themselves, their families, and their communities. Among the events was a community conversation about fathers and father figures supporting young women in education at Columbus City Preparatory School for Girls.
"The school system as a whole has been pretty matriarchal," said CCPSG Principal Shannon Tucker. "I've been doing this for 27 years, as a teacher, instructional coach, assistant principal, and now as a principal. I mainly deal with mothers."
Tucker said she wanted to understand if there were reasons that keep fathers from being a larger part of their daughter's education.
"That's when I talked with Jewel Woods, a black male therapist who works with black men in relation to mental health. He wanted to do something around black men and how they can support women of all ages, that included in education," Tucker explained.
Woods is a Clinician and founder of Male Behavioral Health in Gahanna. He's spent the last several years studying the intersection of gender and race and how it impacts men. With the help of The Columbus Urban League, former Baltimore Mayor Stephanie Rawlings-Blake, CEO of A Call to Men Tony Porter and Tucker, Woods organized a week of events aimed at helping families and communities. Tucker helped with the educational aspect.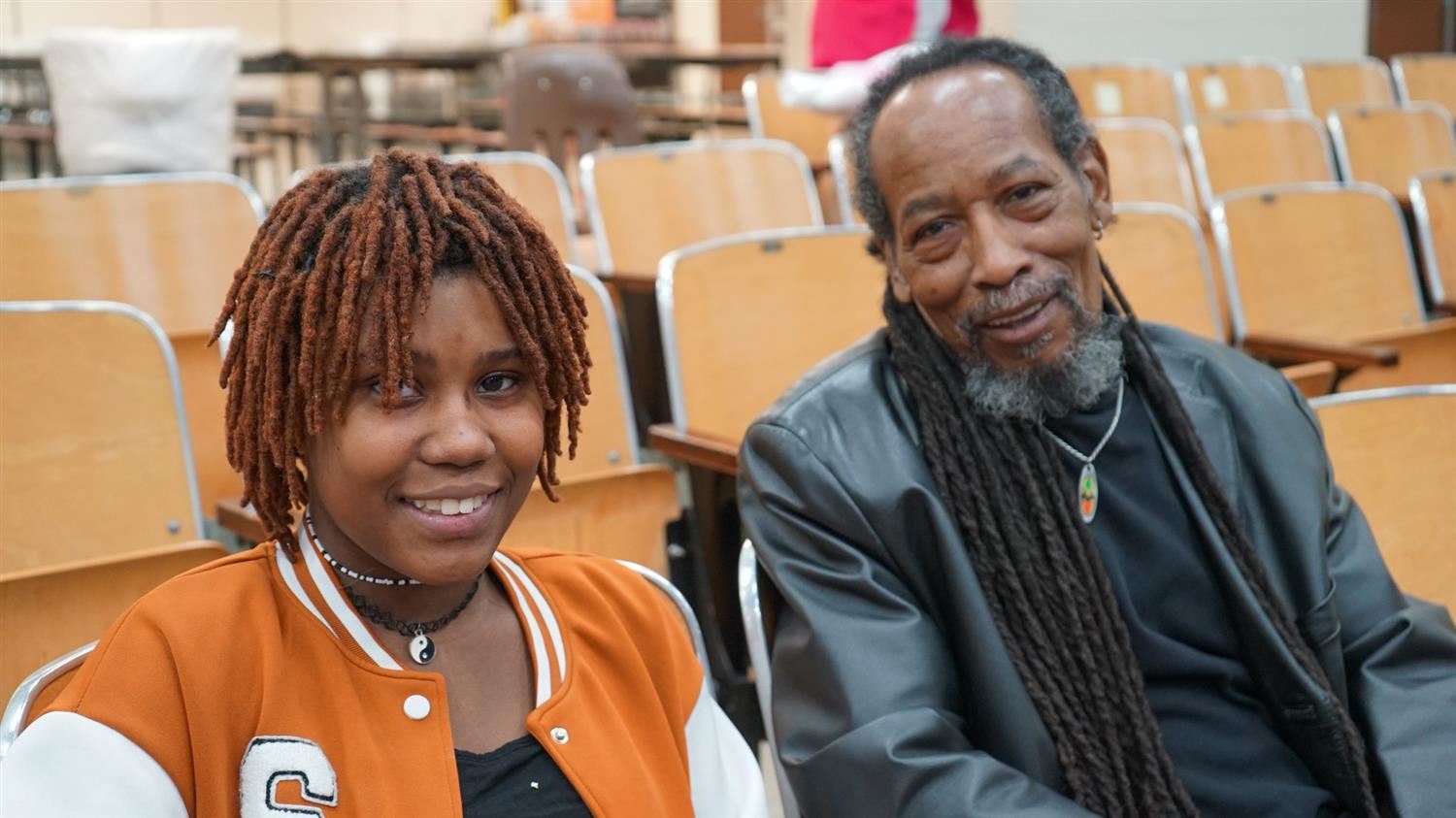 "I wanted to hear from fathers and those father figures. I wanted to know what are those barriers, what is it about the school setting or what we're doing in education that's not as comfortable for them? Most importantly, what can we do about it," Tucker said.
Tucker and Woods brought a panel of men from across Columbus to answer questions about how they were involved in their daughter's education. "How did you feel when you found out you were going to be a girl dad?" and "What barriers did you face with being involved in your daughter's education?" were just a few of the questions posed.
Columbus City Preparatory School for Boys Principal Tai Cornute, former Ohio State University football player Antonio Pittman, Director of Student Well-being Tony Tucker, CCPSG girl dads Ernest Smith and Andrew Clayborn, and Woods all served on the panel.
"Moms are typically the number one priority when it comes to the kids at Columbus City Schools," started CCPSB Principal Tai Cornute.
"It's just practice and commonplace. There can be a variety of reasons for that and maybe we should be asking parents about this. Is this a single-parent household? Does it feel like there are barriers to a child's education because of different households? Are there the same or different last names involved? Communication is the difference maker here," Cornute said.
Other panelists expressed challenges in their education when growing up. For example, getting in trouble in school or having more interest in extracurricular activities are a few reasons they have found it challenging to get involved in their child's schooling.
As part of the panel, Woods expressed how these reasons and barriers can prevent girls from investing in their own education entirely. Tucker told those in attendance an example of how this was true for her growing up.
"I had someone who stood in that gap and he was concerned about my education," Tucker said. "It started out with him asking about my report card and how I was doing in school. When he asked to see it, it wasn't that good. He told me he would give me five dollars for every A I got, and four dollars for every B. I tried to finish his sentence by asking about three dollars for every C and so on. He said no, nothing for Cs, Ds, or Fs. That turned everything around for me because I wanted that money."
CCPSG grandparent and audience member Marvin Martin agreed with Tucker, expressing his commitment to ensuring his granddaughter's success.
"I try to be as involved as I can be. I think it's very important for a parent or a man in the house, whoever that is, the grandparent, the father, or the uncle, to support them and nudge them in the right direction," Martin said.
His granddaughter's father passed away years ago, and since then, he's worked hard to ensure she has a bright future.
"After that, I realized that I needed to step up more to show her that positive image. I try to lead by example and be a good example for her to see this might be ok but that might not be.," he said.
Several other men sitting in the audience with their daughters nodded in agreement when discussing ways of being more involved. Woods said while it was a smaller crowd, knowing some amilies want to engage in these conversations is a starting point.
"It was a beginning conversation. These men need to know they're not just needed, but that they're really wanted," Woods said. "There's not a child who doesn't want a loving, affirming, responsible, committed parent in their life. There are too many of our children, particularly black girls, that do not have that black male in their life."
Woods plans on moving forward with a Black Girl Dad week next year. At the same time, Tucker hopes more conversations like this will happen and encourage more parents to get involved in education.
---