What is HQSD?

High-Quality Student Data (HQSD) is used to guide instructional decisions and meet student learning needs. It is used in making sound instructional decisions for students. Teacher evaluations will use at least two instruments of district-determined high-quality student data to provide evidence of student learning attributable to the teacher being evaluated. HQSD instruments used must be rigorously reviewed by locally determined experts in the field of education. (In our district, these experts are your Assessment Leaders.) Criteria for HQSD instruments can be found here. Pre-approved lists for HQSD instruments can be found below.

HQSD is now incorporated into the evaluation rubric that contributes to the teacher's overall final rating. Whereas the old evaluation was based 50% on the rubric and 50% on Student Growth Measures, the new evaluation's final rating is a holistic rating based 100% on the rubric, of which HQSD is a part. A graphic explaining this change can be found below.

Additional information about HQSD can be found at ODE's website, and HQSD FAQs from ODE can be accessed here.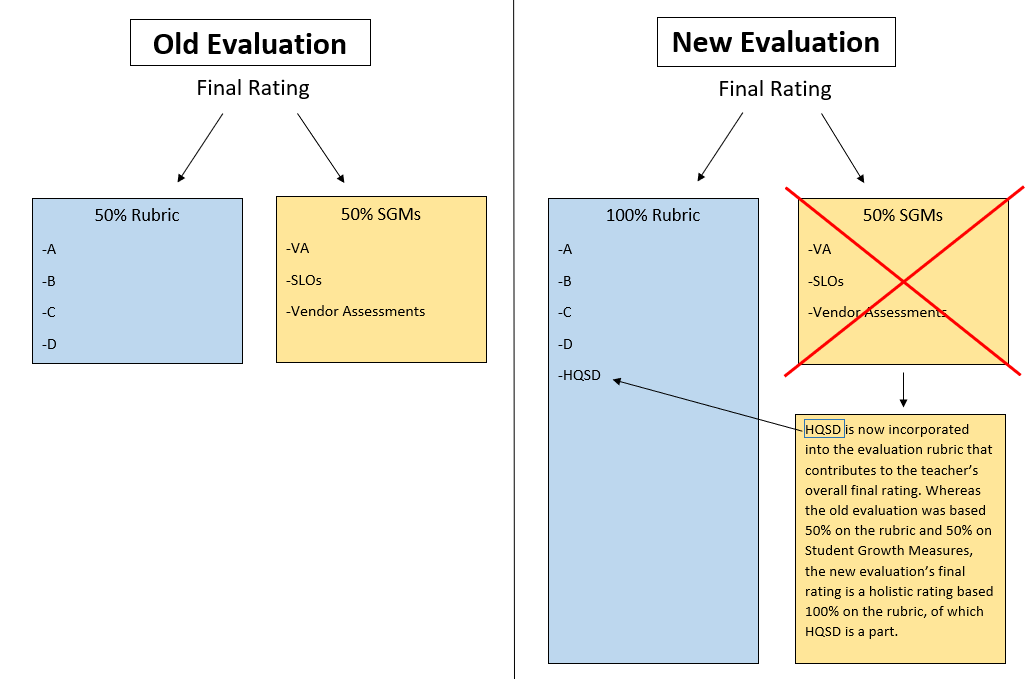 ODE and District Pre-Approved Lists for HQSD

Remember, the teacher evaluation will use at least two HQSD instruments. Teachers have three options for choosing their instruments:

Option 1: Use sources from the ODE pre-approved instruments

Option 2: Use sources from the CCS pre-approved instruments

Option 3: submit an instrument to your Assessment Leaders for review/vetting using the district process. They will either approve or deny the instrument. If it is denied, you will be permitted to submit additional instruments for review or choose from the above pre-approved lists. (Building approved instruments can be accessed through your Assessment Leaders.)

Please note: Ohio's state tests provide value-added data, which research supports as a high quality source of student data. When value-added data is available for a teacher, it must be one of the sources of high-quality student data used in the teacher's evaluation.
High Quality Student Data (HQSD) for Classroom Teachers

High Quality Student Data (HQSD) for Principals and Evaluators