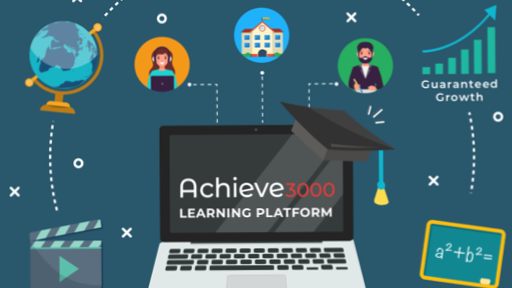 Welcome to the CCS Achieve3000 page! Here, you will find information about Achieve3000, helpful tutorials for reports and tools, and important updates happening in our schools. Achieve3000 accelerates literacy learning growth for all students with differentiated content and instruction. It is proven to double and even triple expected reading gains in a single school year. It is our district's official Tier 2 & 3 literacy intervention and acceleration resource for grades six through nine. Special requests for school or teacher use are also considered. Achieve3000 is accessible to teachers and students via Clever.

CCS Achieve3000 Monthly Competition for Secondary Schools SY22-23

October Winners: CONGRATULATIONS to the schools with the highest increase in average Lexile levels, and the honorable mention runners-up, in October . Well done!

Elementary

Winner

Stewart- 1.7L

Honorable mention

Lincoln- 1.6L

Middle

Winner

Sherwood- 2.4L

Honorable mention

Champion- 1.1L

Dominion- 1.1L

High School

Winner

Centennial- 2.3L

Honorable mention

Africentric- 2L

Scioto- 1.8L

It's not too late! The LevelSet is still available for students that have not already taken it. The LevelSet assessment in Achieve3000 tests students' Lexile (reading) levels and sets their independent reading levels appropriately and adjusts monthly to monitor progress. For this reason, it's important for students to take the BOY LevelSet seriously. Prepare students with this handout and video (English and Spanish) prior to testing. The test can be scheduled for students in the teacher's LevelSet Scheduler via the hamburger menu.

Teacher Log In Set-Up in Achieve3000

When teachers first log in to Achieve3000, the platform will ask to verify the program. Choose BOOST. The Boost program enables the most support for students.
Office of Teaching & Learning

Sonja Dill

Supervisor of Secondary Curriculum

Support for Accounts & Access

Achieve3000

Amber Harris

Product Manager

Support for Teacher PD & Instruction

Virtual Meetings for Q&A and Demonstrations:

Available upon request. Email us to schedule a meeting.

Upcoming Achieve3000 PD Sessions

TBD

Achieve3000 Recorded Training Sessions

Access past training sessions here. You will need to register to enter this site, which is designed for CCS educators only.

30 Days to Improving Instruction Mini-Modules

These super-short modules, Collaborative Conversations and Close Reading, are designed for teachers of all subject areas to enhance instructional approaches to develop students' literacy growth. They can be immediately applied in the classroom.