Return to Headlines
Students Pitch Business Ideas in Shark Tank-Style Competition at Otterbein
July 29, 2022 -- As rising 8th grade student Elijah Cook waits patiently with his team, he is eager and excited to put their entrepreneurial skills to the test in a Shark Tank-inspired competition where they are ready to present the idea for their company, Teach Mart.
"I knew after my first day at Summer Experience I wanted to own a business," Cook said.
Modeled after the famous show, Summer Experience students in grades 6th through 8th participated in Shark Tank presentations at The Point at Otterbein University's networking facility. Each team created a pitch, ready to convince a panel of area community leaders, including Board President Jennifer Adair, to invest in their respective business idea.
Working as a team, students brainstormed ideas to develop a business concept. While creating their business plan, each group considers the talents of all team members, assigning each member a role within the company. In addition, students learned the importance of using technology and creative art to persuade, how to budget money, calculate profits, and various business terms to enhance their vocabulary.
"I learned about profit and revenue and what a break-even point is. It's good that I'm learning about entrepreneurship at my age; many kids nowadays have businesses. Learning about entrepreneurship makes me more interested in starting a business and being my own boss. My parents are entrepreneurs, and I am inspired by them as well. It's all about what I can do to better the world and empower other people," said Ayla Ferguson, Teach Mart team member, and rising 8th grade student.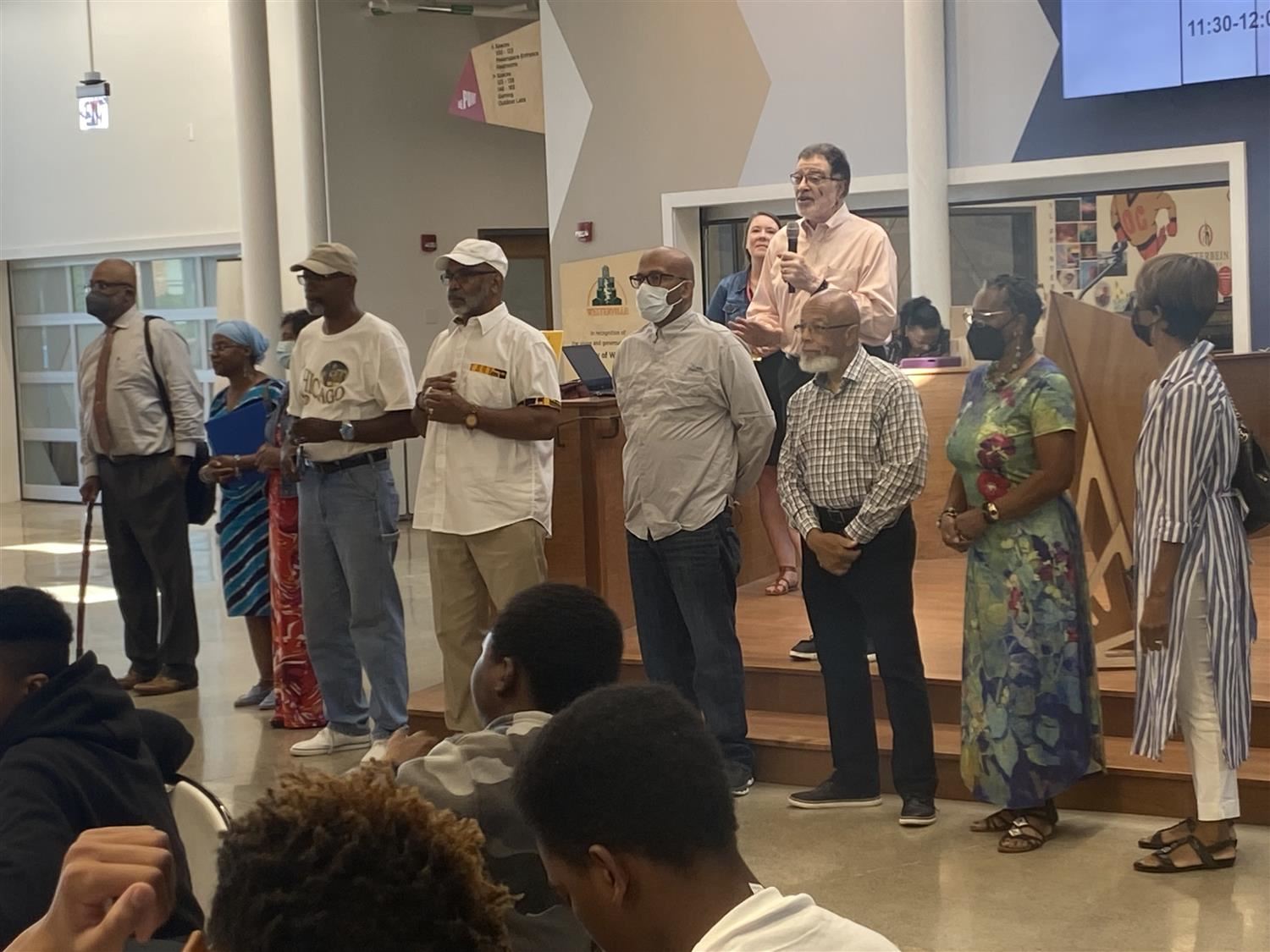 Each team had 10 minutes to present their business concepts to the Shark Tank panel. While some students appeared nervous about presenting to such a large audience, Junior Achievement Board member Roger Madison reassured participants.
"I have worked with many of you over the last few weeks; trust me, you've got this. You're more prepared than you think. You're going to do an excellent job," Madison told students.
Each team had a unique story as students began pitching to the sharks. Entrepreneurs of Teach Mart presented a credible business complete with a product demonstration. Adding a QR code, the Teach Mart team invited the sharks to scan the code with their cell phones, connecting each visitor to the Teach Mart website.
"Our team created Teach Mart, directed towards assisting teachers and administrators in purchasing school supplies. I enjoy going to school and enjoy working with my teachers. They encourage and inspire us daily. We believe it's essential for teachers to have resources available to them and then provide them to their students; that is a blessing. We wanted to help teachers and students," said Ferguson.
As the Shark Tank presentations concluded, Board President Jennifer Adair shared her excitement.
"Today's presentations were amazing from our Shark Tank participants. The 7th and 8th graders worked hard to present and create their ideas for brand new businesses. Our students took this assignment seriously. It's wonderful how our students were able to take a problem and try to solve it, becoming entrepreneurs along the way," said Adair.
Adair believes the six attributes of a Portrait of a Graduate align perfectly with the Shark Tank presentations, adding that as students continue learning valuable lessons in entrepreneurship, they will be able to exhibit those attributes beyond graduation.
"Our students took what they learned throughout the Summer Experience and implemented those six attributes, creating a business concept. This is a perfect example of how our Portrait works in the real world," said Adair.
In a close finish, the Sharks choose Team Teach Mart as this year's Shark Tank competition winner.
"Everyone on our team has their ticks; what we like and don't like. Our team was able to come together and do what needed to be done. Not just because we had to, but because it was fun and we wanted to do it," Cook said.