Return to Headlines
Indianola Summer Experience Program Provides Early Introduction to World Languages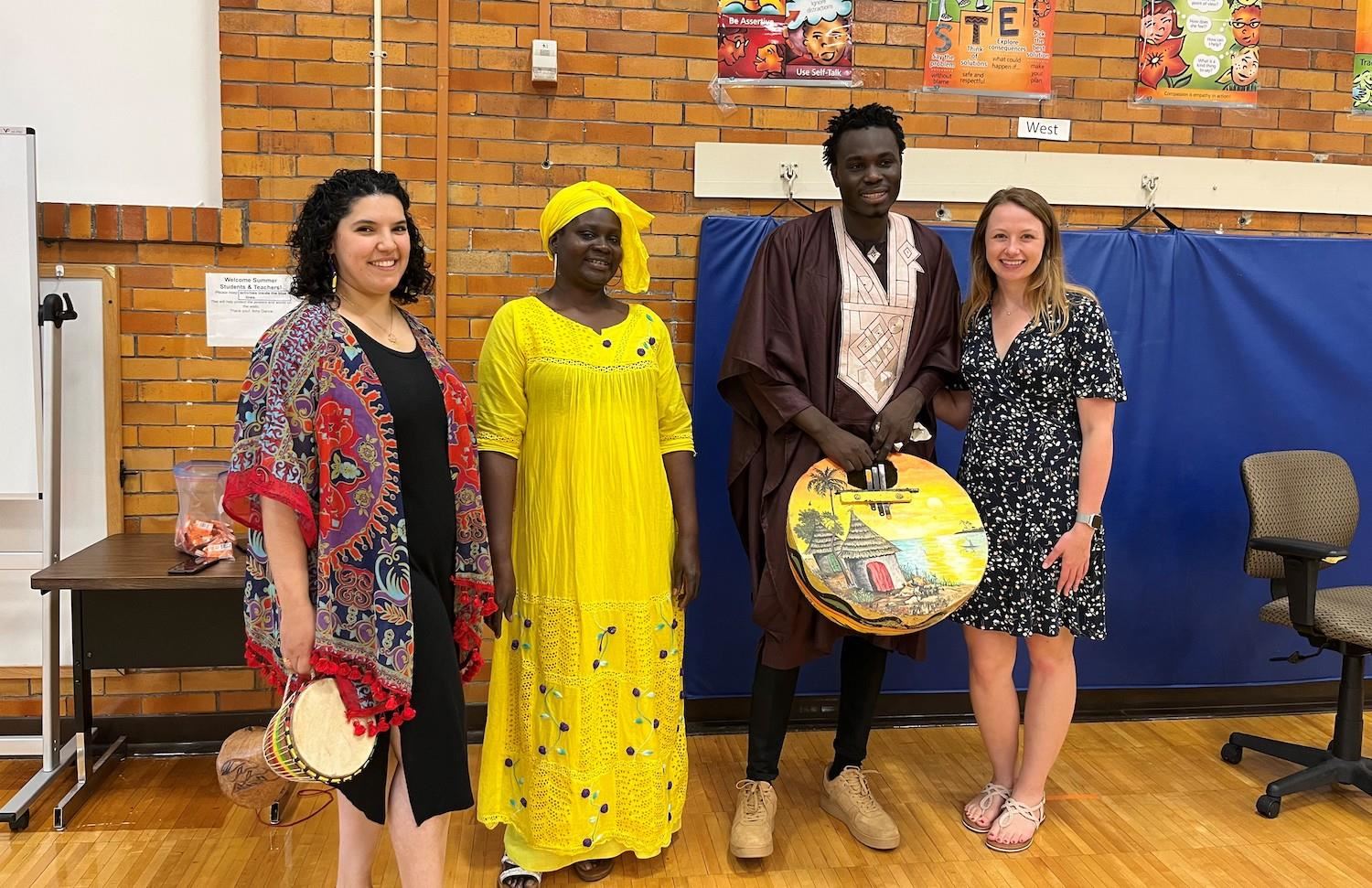 August 4, 2022 -- Hearing students greet each other in French while walking to class was a highlight for Aida Ndouta, who taught French at Indianola Informal K-8 during Summer Experience.
"I would just be walking down the hallway, and kids would yell out, 'Bonjour!' 'Merci!' 'Au revoir!' It was great," Ndouta said. "They spoke these languages they learned to show their appreciation and that they remembered what you taught. Students were very confident, happy, glowing, and ready to share what they learned."
Students learned French, Spanish, Japanese, and American Sign Language throughout the summer. The goal was to introduce them to and create enthusiasm for learning other languages at a young age.
"A lot of students do not get that opportunity unless they go to an immersion school," said Andre Jones, Summer Experience administrator for Indianola. "The foreign language program was a nice compliment to the instruction. Students were excited to learn. I could see the look on their faces that this is not summer school. This is truly a summer experience."
Students were immersed in a different language each week, tying in math, science, culture, and geography.
"It was nice to introduce French from other cultural viewpoints instead of just France," said Dora Hedna, a French teacher at Indianola for Summer Experience. "Every country that speaks French is not going to have the same culture, religion, or dress the same way. It was interesting for students to see that if they take this language, they can travel to all these places."
Additionally, students were building a foundation that could help them into middle and high school. Hannah Reese, a Summer Experience French teacher at Indianola, said she noticed kids bolstering their language skills and confidence.
"I think that Summer Experience will help many students when they start to learn a different language in middle or high school," Reese said. "They may feel like they can be more open-minded and more ready to step outside their comfort zone."
One option for high school students as part of graduation is earning a seal of biliteracy. This award, which began with the graduating class of 2019, is given by a school, district, or state to recognize graduating seniors who demonstrate high proficiency in English and at least one other language.
"The seal of biliteracy requires an advanced level of knowledge of languages," said Lee Bishop, who taught Japanese at Indianola and Dominion during the summer. "If we aim for that as world language teachers, it's good to start as early as possible. Teaching kids at a younger age allows students to be on that path to showcase and develop those skills at a younger age to where they can be ready for college and future jobs."
Summer Experience culminated in a week of celebrations, including performances by Cuban-American pianist Dr. Orlay Alonso for the Spanish celebration, Dublin Taiko drummers for the Japanese celebration, and Guewel Mbaye for the French celebration.
"Summer Experience was a fun time, and it embodies the idea of extending and supporting learning throughout the summer," said Marian Bryant, a Spanish teacher at Indianola's Summer Experience program. "They are ready for the next grade at the end of the year, but they still have fun experiences like the celebrations, field trips, connecting with peers, and learning a different language along the way."
Teachers said they enjoyed the collaborative atmosphere of Summer Experience.
"Many of us are the only foreign language teachers in our schools, so we don't have anybody to go to bounce ideas and collaborate," said Marlene Torrez-Graham, a Spanish teacher at Indianola's Summer Experience program. "This was wonderful. It was an opportunity to talk to classroom teachers and get to know their opinions."
Ndouta said through the program and learning another language; students cultivate several attributes from a Portrait of a Graduate, including communication, critical thinking, and especially, global empathy.
"Everything they learned this summer is a great way to start becoming a global citizen," Ndouta said. "It's how they start learning about cultures and other languages to get ready to be out there to see the world."